It is extremely cold outside, but Aleksandar Vucic is not wearing anything on his head. He wades through the deep snow with a determined stride. Without any assistance, he manages to free a child from a car stranded due to a blizzard in northern Serbia. The adults still need to wait for help, but the young boy, around 11 years old, is pulled out of the car by Vucic and handed over to an army officer who takes him to a waiting helicopter.
Broadcast on national television, the rescue effort was a huge publicity success for 44-year-old Vucic, leader of Serbia's center-right Serbian Progressive Party (SNS). It came at just the right moment, in early February, a few weeks before the national parliamentary election.
The footage of the exercise prompted the production of numerous parodies, in which "Superhuman Vucic" wears a superhero costume. Despite this, Vucic knew that even blatant populism could not hurt his political campaign.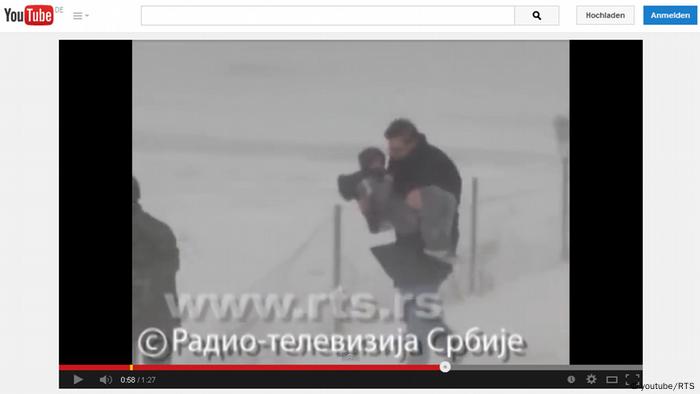 Even though it was humored by many, the snow rescue boosted Vucic's public image
From nationalist to reformer
The election has been held earlier than originally planned - at Vucic's request. A former ultranationalist, Vucic is now known for his pro-European stance. Instead of promoting Serbian patriotism, he prefers to focus on reforms and fighting corruption. It was Vucic's initiative that led to the 2012 arrest of Miroslav Miskovic - a billionaire businessman accused of embezzlement and tax evasion. Vucic's popularity has grown steadily since then.
From 2012, the Serbian Progressive Party shared power with the Socialist Party of Serbia (SPS) under Prime Minister Ivica Dacic. But Vucic's desire to rule by himself has been very strong, according to Zoran Stojiljkovic, a political science professor at the University of Belgrade. This is why he pushed for early elections.
"It was a unique opportunity for the Progressive Party," Stojiljkovic told DW. "It wanted the election to come before the expected worsening of the recession, necessary job cuts in the public sector and trade union protests."
Big promises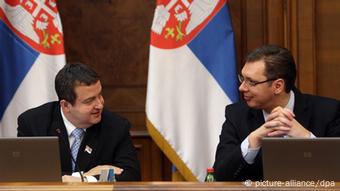 Vucic has hoped to take over Dacic's post as Serbian Prime Minister
Around a quarter of Serbia's workforce is unemployed, and its public sector is seen as overinflated - with around 800,000 civil servants out of a population of 7.1 million. Many of these have their positions thanks to political party initiatives.
"The largest parties are warning that economic growth will be a painful process," said Dorde Vlajic, editor at the state-owned Radio Belgrade. "At the same time, though, they are promising many new jobs, a better life and investments."
The Progressive Party, for one, announced the construction of "Belgrade on the Water" - an ultramodern inner-city district on the Sava River. Investors from the United Arab Emirates are injecting a multi-billion-euro sum into the project, which is expected to generate 200,000 new jobs.
Looking towards the EU
While big promises echoed throughout the campaigns in the election run-up, one word was hardly ever heard: Kosovo. The former southern Serbian province officially declared its independence in 2008 and is currently recognized by over 100 countries. Although Serbia does not recognize Kosovo as a sovereign state, the two countries have signed several treaties in recent years. This allowed Serbia to fulfill one of the most important requirements set by the European Union, which in turn allowed the country to become an EU accession candidate in January.
"Turning away from Europe is pretty much inconceivable now," said Vlajic. "Only the strongly patriotic parties are against EU accession."
Power struggles within opposition parties have also contributed to Vucic's popularity, as have tabloid newspapers, which have regularly run stories about various opposition politicians' allegedly shady business dealings. Vucic, however, has nearly always been portrayed in a favorable light, which could in part be due to the Serbian media companies' heavy dependence on public commissioning.
While users of social networking sites were busy making fun of Vucic's heroic snow rescue stunt, one popular newspaper wrote, "Vucic saves children from the snow and opposition politicians are sitting and drinking coffee in front of the television."