Residents of Volokolamsk had long complained about the stench coming from the nearby Yadrovo landfill, where hundreds of garbage trucks from Moscow and the surrounding areas dump their loads every day.
The problem, however, escalated sharply two weeks ago, when scores of schoolchildren requested medical aid for symptoms of poisoning. Adults also complained of nausea, fainting and breathing troubles. Authorities quickly admitted that a cloud of toxic fumes originated at the overfilled site. As the health crisis escalated, Volokolamsk residents staged mass protests and urged the officials to close down the compound.
The health risk is exacerbated by melting snow, which could lead to dangerous chemicals getting into the local river.
Residents of several other towns near Moscow have reported similar troubles with their own landfills. People from the historic town of Kolomna warn that their children are also suffering from health troubles, and protesters there have tried to block garbage trucks from entering the local waste compound, located about 100 kilometers (60 miles) from Russia's capital. Residents of Tarusa, Klin, Tuchkovo, Voskresenks and Naro-Fominsk — all townships located in the vast Moskovskaya Oblast — have also staged demos or set up roadblocks.
The recent poisonings have driven discontent to the "boiling point," the ecological activist Olga Noskovec told DW on Tuesday.
"A landfill is a slow killer — sickness is coming very slowly for those close to it — but everything has happened very quickly here," Noskovec said.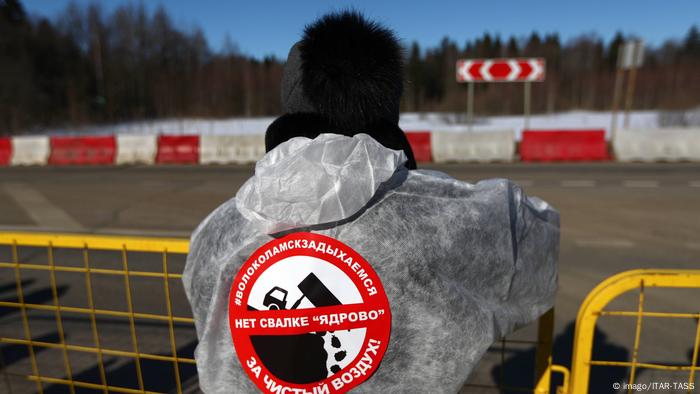 The logo on this protester's jacket says "No to Yadrovo landfill!"
Trying to 'stall'
Russia's government responded by firing the head of the Volokolamsk district, Yevgeny Gavrilov, but also by detaining one of the protest organizers for disobeying the police. Moreover, authorities pledged to set up an additional measuring station to monitor air pollution in Volokolamsk and open a decontamination facility. They say closing the Yadrovo landfill will take time.
The activist Noskovec warns, however, that officials are making pledges they don't intend to keep.
"They only mean to stave off the wave of public protest and stall, gain time, because our officials think the issue will go away on its own," she said.
The issue of garbage disposal and toxic landfills cannot be solved quickly, she added. Though closing the controversial compounds might ease the tension, the sites would continue to be toxic for many years.
"Closing it is one thing, and to conduct a proper recultivation is a completely different issue," Noskovec said. "It's a matter for specialists who can handle the problem of this magnitude, and I am afraid that there may not be any left in Russia anymore."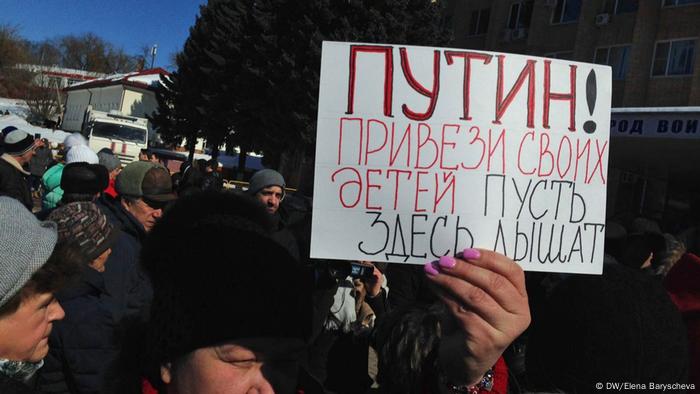 "Putin!" this placard says. "Bring your children around so they could breathe here"
Lobbying for landfills
Russia's capacity for garbage reclamation is rudimentary compared with operations elsewhere in Europe. However, there are also financial interests at play. Garbage collection in a metropolis the size of Moscow is also a lucrative business conducted by well-connected companies that, Noskovec pointed out, oppose change and new technology.
Read more: Where Russia falls short in fight against climate change
"It's really no secret that we have this thing called 'the garbage mafia,'" Noskovec said. "There is huge money involved, and nobody is controlling it: It goes to the specific group of people who are in favor of keeping these landfills working."
"It's clear that there is lobbying at top levels," she added.
Last week, the Kolomna activist Dmitry Solomevich told DW that residents are afraid of running afoul of influential figures.
"Many are scared," Solomevich said. "They are afraid to show themselves and speak their mind openly. They only speak when nobody is listening — like talking to their wife in the kitchen. But it is necessary [to speak out] otherwise they would not hear us."
The Volokolamsk protesters have now filed a legal complaint against the Yadrovo landfill for "numerous legal violations in the area of environmental protection," including "selective" sorting of garbage and spreading "a powerful smell of rotting waste." They urge the court to halt the operation until the issues are resolved.
The court is set to decide on the complaint next week.
Every evening at 1830 UTC, DW's editors send out a selection of the day's news and features. You can sign up to receive it here.