DW: Your rescue ship has been in action off the coast of Libya for the past eight months. You coordinate rescue missions and captain the ship yourself at times. How has this work affected you?
Klaus Vogel: I began coordinating the first rescue missions in February, and I have to say that the thing that has most deeply affected me has been my experience with people who are in grave danger and live in mortal fear. One cannot begin to imagine what that is like. It changes a person. It is clear to me and those that I work with that we have an obligation to rescue these people and to help them as best we can. Moreover, I also feel that we have a responsibility to point to the situation in Libya, where these people are caught in shocking and life-threatening circumstances. They are often kidnapped, tortured and raped there. That is something that is not well known in Europe.
Right now in Europe, the political issue is more about how many people can be admitted or whether they can be sent back to where they came from. Does that make you despair? Or do you glean hope from the work you do?
I am in fact devastated by the direction that the discussion in Europe has taken over the last year. At the same time I realize that those who talk like that simply don't understand the situation - and cannot imagine it. But I hope that our work will help people to better understand it. We invite those who are in doubt to simply come along with us and experience it for themselves.
I would love to take European decision-makers on board with us. If they could see what we see everyday, they would change their minds. Just like our Ukrainian first mate. When he started with us, he simply saw his job as piloting this ship from point A to point B. And, although he didn't get the whole rescue operation and was initially scared of the refugees, he has meanwhile become one of the most important supporters of our mission.
If you were to take German Chancellor Angela Merkel and other such leaders with you, what would they experience?
They would meet people who have been living in mortal danger for months, even years, and have no other options. They are people that have experienced the unimaginable in Libya. In the end, they put all their money on one card and have taken the risk of setting out to sea in a tiny inflatable. To make matters worse, most of these men and women can't swim. When you see people like that, you suddenly understand that we have to find another way to let these people come to Europe rather than making them risk their lives. We must open our borders for people that are fleeing and are in danger.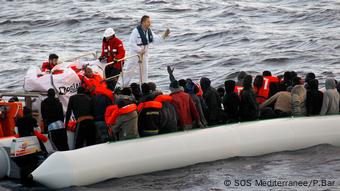 Vogel says he and his team have helped more than 4,600 people
Another EU concept is to go after human traffickers in the Mediterranean. Is that the right approach?
There are no traffickers on the boats that we rescue. The traffickers are on land, in Libya, or other countries. That means that one has to find other ways for people to escape if you want to combat traffickers. If we create legal paths for these people to come to Europe, then they will not have to risk their lives in the hands of smugglers and travel across Libya - where they are indeed in mortal danger.
The more open we are, the less dangerous traffickers there will be. But we must be fundamentally prepared to accept more refugees in Europe for that to happen. Even if only to listen to their stories, hear what they have experienced and to verify their requests for asylum.
Klaus Vogel is currently campaigning in Europe for support of his mission. His association needs 11,000 euros ($12,000) a day to continue rescuing refugees.