From Aug. 20-22 the eastern German city of Leipzig expects 200,000 visitors as it hosts the Gaming Convention for the seventh time. Apart from Nintendo, all major games producers will be exhibiting and promoting their latest products. 40 percent of the exhibitors are from abroad, with over 30 countries represented.
"At this time Leipzig is the center of gravity for the European game industry," said chief executive of the Leipzig Trade Fair Wolfgang Marzin. "The industry looks to Leipzig, waiting eagerly for the signals for the German and European market from the year's most important fair."
Gaming thrives in Germany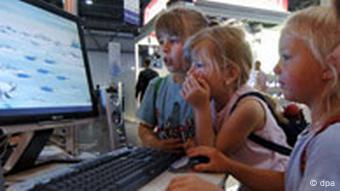 Video games attract old and young as sales rise in Germany
The sales of consoles and games in Germany is expected to increase by 13 percent this year, with German gamers set to spend an estimated 2.6 billion euros ($3.8 billion) on video game products, according to German tech industry association Bitkom.
But video games are not just making financial progress in Germany. The German game development association GAME was recently granted membership from the German Cultural Council -- a gesture that made the game industry's a part of the cultural mainstream.
German cultural ministers also expressed respect for gaming with the decision to create a video game "Oscars" award ceremony, starting in 2009, with 600,000 euros worth of prizes available.
"Of course some games are bloody and they should not be in the hands of children," cultural council head Olaf Zimmermann told the AFP news agency. "But that does nothing to change their aesthetic qualities."
Fair pays tribute to 'Space Invaders'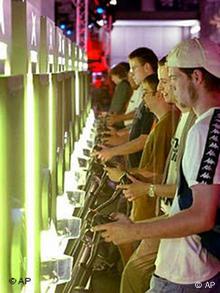 Visitors will be able to try out the latest games
Much of the excitement around this year's Leipzig fair is owed to the celebration of the 30th anniversary of the arrival of "Space Invaders." Organizers of the fair have called the game where players must shoot down hoards of descending spaceships "revolutionary."
The organizers emphasize the multi-player nature of the game.
"This might appear a simple feature to a modern audience but ... from then on, you didn't only play against the machine but also against human opponents," organizers said.