Venezuelan opposition leader Juan Guaido on Tuesday called for a military uprising to oust acting President Nicolas Maduro.
"The future is ours: the people and armed forces united," he said in a video in which he appeared alongside soldiers and opposition politician Leopoldo Lopez, who had been under house arrest.
After the video was taken outside a military base in Caracas, Guaido supporters clashed with soldiers near the site, leaving at least 69 people injured.
Tens of thousands of Guaido supporters also fought riot police along the main Francisco Fajardo thoroughfare in the capital. Some protesters were injured after a National Guard armored car drove into them.
Guaido speaks to DW
Speaking to DW by telephone on Tuesday, Guaido said the "armed forces are not with Nicolas Maduro, they are with change and with the people, and with the constitution."
Guaido responded to a suggestion he was leading a coup by saying it was the Maduro government that had undermined the rule of law, ignored the constitution and failed to hold free and fair elections. "They seized power," he said of Maduro's government.
He said the opposition to Maduro was "peaceful within the framework of our constitution," and would continue to be so. "We will maintain non-violent action as the Venezuelan people do when they take to the streets to protest and make demands."
US Secretary of State Mike Pompeo backed Guaido in a tweet on Tuesday, writing that "the US government fully supports the Venezuelan people in their quest for freedom and democracy. Democracy cannot be defeated."
US National Security Adviser John Bolton called on key figures to back Guaido.
"The Cubans, we believe, have played a very significant role in propping Maduro up today, possibly with help from the Russians. That's the speculation, certainly in Caracas," he said in Washington.
He singled out Defense Minister Vladimir Padrino Lopez, Supreme Court chief justice Maikel Moreno and presidential guard commander Ivan Rafael Hernandez Dala, calling on them to support Guaido.
"It's time for them now, if the Cubans allowed them, to fulfill their commitments."
The European Union's foreign policy chief, Federica Mogherini, called for "utmost restraint" from both sides.
"We reiterate that there can only be a political, peaceful and democratic way out for the multiple crises the country is facing," she said.
Early morning video
In a three-minute video shot early on Tuesday, Guaido, the self-declared interim president and leader of Venezuela's opposition-controlled National Assembly, said the "final phase" of the push to end Maduro's "usurpation" of the constitution had finally begun.
"The national armed forces have taken the correct decision, and they are counting on the support of the Venezuelan people," he said from the Caracas air base La Carlota, adding that he had met with military units.
Guaido himself and several of the army officers were wearing blue armbands.
In response, Maduro said via Twitter that he had met with regional defense units who had expressed their "total loyalty" and he called for "maximum popular mobilization."
Lopez released from house arrest
Leopoldo Lopez, a leading opposition figure, wrote on Twitter that he had been released from house arrest by the military under the constitutional orders of Guaido.
"This is the moment of all Venezuelans, those in uniform and those who aren't," said Lopez in his first public appearance since being detained in 2014 for leading anti-government protests. "Everyone should come to the streets, in peace."
Lopez later entered the Spanish embassy after spending several hours at Chile's residency, Chile's foreign minister Roberto Ampuero said on Twitter.
Coup attempt
Venezuelan Information Minister Jorge Rodriguez wrote on Twitter that the Maduro government was "confronting and deactivating a small group of military traitors" backing a coup against the state.
Defense Minister Padrino wrote on Twitter that the armed forces remained "firm" in defending the "legitimate" government of Maduro and that all units were under "normal" military command.
"We reject this coup movement, which aims to fill the country with violence," Padrino said.
Venezuela's socialist party boss, Diosdado Cabello, called into state television urging government supporters to rally at the presidential palace to protect Maduro against an uprising.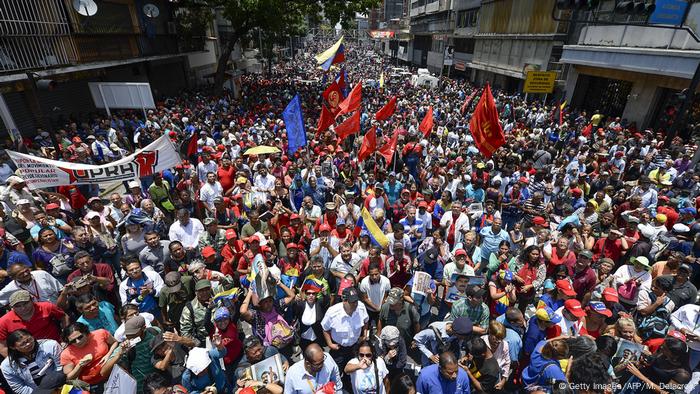 Pro-Maduro demonstrators have gathered outside the Miraflores Presidential Palace
Major protests planned for May Day
In January, Guaido invoked the constitution to proclaim himself interim president, arguing that Maduro's reelection in 2018 had been illegitimate.
Tuesday's video and heightened tensions came as Guaido called for "the largest march in Venezuela's history" on Wednesday, May 1.
"People of Venezuela, it is necessary that we take to the streets to support democratic forces and recover our freedom. Organized and together, the main military units have been mobilized," he wrote on Twitter.
Guaido's move represents a significant escalation in tactics that could prompt authorities to arrest him after already stripping him of parliamentary immunity and opening an investigation. It also tests the loyalties of a military that has so far backed Maduro, despite calls from the United States and other regional states for the army to support the opposition.
amp, cw/cmk (AFP, AP, dpa, Reuters)
Every evening, DW's editors send out a selection of the day's hard news and quality feature journalism. You can sign up to receive it directly here.