Venezuelan President Nicolas Maduro on Tuesday formally pushed ahead with moves to rewrite the constitution, despite opposition claims he is attempting to avoid a general election.
Maduro addressed a crowd of red-shirted supporters to present details of the 540-member "constituent assembly" project - an attempt to quell increasingly violent protests in the country.
"Votes or bullets, what do the people want?" Maduro asked the crowd at the Miraflores presidential palace. "Let's go to elections now!"
Maduro then unveiled details of the new assembly that would be tasked with drafting a new constitution. He said it would be partially elected by votes at a municipal level and partly by special constituencies and organizations such as workers and retirees.
He first announced the popular assembly in early May, saying it was an attempt to defeat the "fascist coup."
The head of the pro-government electoral council said Tuesday that officials were looking to hold elections as soon as July for the new "constituent assembly."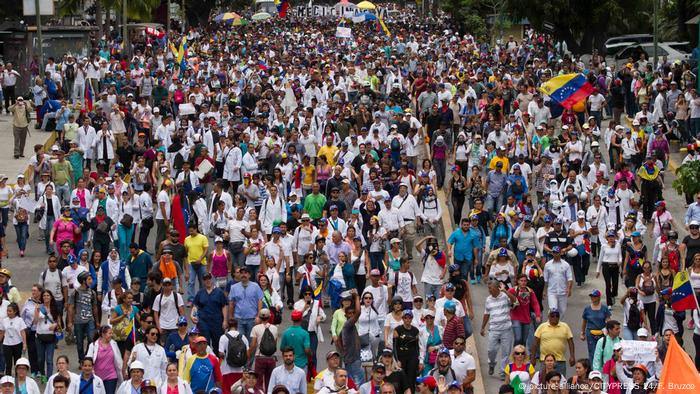 Venezuela has been hit by increasingly violent protests as citizens struggle to buy food
Sham to keep power
Opposition leaders slammed the project as a sham to keep Maduro in power and avoid a general election.
"Maduro and the electoral council think that the country and its opposition leaders are dumb, that we're going to start bickering over governorships while they get away with fraud," opposition lawmaker Miguel Pizarro said on Tuesday night.
Critics said the groups given a vote in the assembly were dominated by the ruling socialists. They claimed the new voting system would undermine Venezuela's democratic tradition of universal suffrage and direct elections by secret ballot, saying the method would tilt the outcome in favor of the government.
The proposed new constitutional body would sit in the chamber of the National Assembly legislature, which is the only state institution nominally controlled by his opponents.
"What Nicolas Maduro has announced is nothing but a continuation of a coup against the constitution," said the opposition speaker of the legislature, Julio Borges.
"This National Assembly calls on Venezuelans to continue peaceful protests morning, noon and night in all corners of Venezuela until the constitution is respected," Borges said.
Even Venezuela's state prosecutor panned his project, warning it risked deepening the crisis.
Elections scheduled for December
The electoral council said it was also scheduling long-delayed regional elections for December, although the proposed assembly could prevent them. Maduro abruptly postponed regional elections last year after it emerged the opposition was heavily favored to win.
Venezuela has been gripped by nearly two months of anti-government protests that have left at least 53 people dead. The opposition blames him for an economic crisis that has caused shortages of food and medicine.
A man was set alight on Sunday by a crowd who accused him of thieving. Maduro said he was targeted for being a government supporter.
aw/jm (AFP, AP, Reuters)