During Sunday's rally in the western city of Valera, gunmen reportedly fired at demonstrators and hit several people, including an 18-year-old male and a 50-year-old woman.
"At that moment, [Edy Alejandro] Teran Aguilar received a bullet in the chest," the attorney general's office said in a statement. The 23-year-old was pronounced dead upon arrival at a local hospital.
The mayor of a municipality in the eastern part of the capital, Caracas, said 46 people were injured in protests on Saturday. In the Caracas suburb of San Antonio Los Altos a youth was wounded by gunfire, according to the opposition governor of the state of Miranda.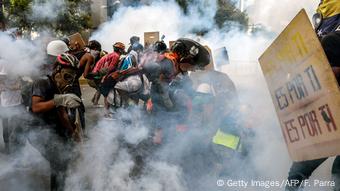 Protesters struggled with tear gas in clashes with riot police during a protest in Caracas
Since the protests began on April 1, hundreds have been injured and 2,200 have been detained. Of those arrested, 161 have been jailed on the order of military courts, according to Foro Penal, a non-governmental monitor.
Venezuela's opposition have blamed President Nicolas Maduro for the country's wrecked economy that has led to dire shortages of the most basic of goods.
Authorities blocked an opposition push for a referendum in 2016, delayed state elections and are resisting calls to bring forward the next presidential election scheduled for late 2019.
Some 17 opposition parties have agreed to discuss the terms of a national dialogue with the government, although right-wing groups aligned with the Democratic Unity alliance have refused to cooperate.
Public burning
President Maduro slammed opposition protesters on Sunday for setting a man on fire during a demonstration.
"A person was set on fire, beaten up, stabbed... They nearly lynched him, just because he shouted out that he was a 'Chavista,'" Maduro said - referring to the ruling socialist movement created by his predecessor, Hugo Chavez.
About 100 people participating in anti-Maduro protests in east Caracas reportedly surrounded the man, doused him in gasoline and set him alight, witnesses told the news agency Reuters.
"Burning a person because he seems a Chavista is a hate crime and a crime against humanity," Maduro said in his weekly TV broadcast.
"Growing insanity. A human being is set on fire at a 'peaceful demonstration' by the opposition in Caracas," Venezuelan Information Minister Ernesto Villegas said on Twitter, posting a video of the incident.
The prosecutor's office said it had opened an investigation.
Paranoia rules
Maduro believes protesters are plotting a coup against him with US help and are increasingly persecuting "Chavistas" at home and abroad. Last week, he compared the situation to the Nazi treatment of Jews.
"Venezuela is facing [...] a coup movement that has turned into hatred and intolerance, very similar to Nazi fascism," he reiterated on Sunday.
Maduro blamed "the leaders of groups of mercenaries" for the violence and said several of them were already in prison.
US President Donald Trump, Maduro said last week, has his hands "deeply penetrated in this conspiracy, which aims to take political control of Venezuela."
jbh/cmk (Reuters, AFP)