Envoys of the Holy See appeared for the first time before a UN committee to answer questions about child sex abuse cases in the Catholic Church on Thursday (16.01.2014). The hearing took place as part of a broader UN probe on the implementation of the UN Convention of the Rights of the Child, which the Holy See ratified in 1990. But it has refused to provide regular progress reports.
But the Vatican's representatives made it clear that the Vatican is taking the handling of the sex abuse scandals in the Catholic Church seriously. However, they reiterated that the Vatican's options are limited, as it only has jurisdiction in Vatican City State.
DW: The Vatican still insists that its limited jurisdiction means it cannot sanction pedophile priests and bishops around the world. How does that chime in with its recent efforts to reform?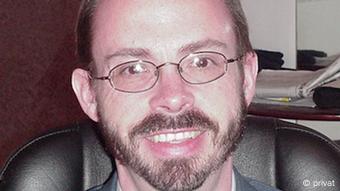 John Allen National Catholic Reporter
John Allen: It's a double-edged sword for the Vatican. On the one hand, they want to argue that they've adopted tough new policies and are trying to promote reforms, which certainly sounds like the have responsibility for what happens in the Church around the world.
On the other hand, they want - both for theological reasons and for practical legal reasons - to keep themselves at arm's length from taking direct responsibility for the conduct of priests on the ground. In a sense, you could say they want it both ways: They want to take credit for tough new policies, but they don't want to take responsibility for when those policies break down.
Technically speaking, if you're a priest, you don't report to the Vatican, you report to your local bishop. But in a time of crisis, people are looking to the leadership, the Vatican, to take responsibility and action.
There are times when a technically accurate response fails the smell test for ordinary people and this is probably one of them.
The Vatican officially committed to a zero-tolerance policy under Pope Benedict XVI. It is now easier and quicker to strip an abusive priest of the priesthood. Benedict also made it clear that the Vatican will cooperate with civil authorities. How has his successor built on these reform efforts?
Last July, Pope Francis amended the criminal code of the Vatican City State to add the crime of sexual abuse against minors and the possession of child pornography.
That meant that Vatican personnel are now not just subject to internal church procedures but also to criminal procedures.
In December, he announced the creation of a new papal commission to promote best practices on the fight against child sexual abuse. One of the ways bureaucracy signals that something matters to them is that they create structures.
So, this was certainly a signal from Francis that this was a priority for him.
Thirdly, they have launched criminal procedures against a Polish archbishop, a former papal diplomat in the Dominican Republic [Jozef Wesolowski – the ed.], who was accused of sexual abuse of boys – it's the first time these criminal statutes, I mentioned, are being used.
Assuming that this guy is being convicted, he could actually do time in a Vatican jail, which would be unprecedented. It would be a landmark event – it has never before been the case that a Vatican official – and in this case an archbishop – has been criminally charged under Church Law with the offense of child sexual abuse.
Critics argue, while that is all very well, it is still unclear how or if failure to apply these policies will be punished?
Yes. There is a case in the US, in the diocese of Kansas City, where the local bishop was accused of knowing about a charge of sexual abuse against one of his priests but not reporting it to police. That priest was charged with failure to report… he pled guilty, he was actually convicted and sentenced to a suspended jail sentence.
He is still on the job and has not been disciplined in any way by the Pope or the Vatican. So, what critics will say is that until, in situations like that, bishops are held accountable, these policies are just words on paper.
You say that the fact that the Vatican sent Charles Scicluna, who has been its chief sex crimes prosecutor, to the UN hearing, seems to indicate at least that it is taking this issue seriously. Is the Vatican doing enough to fight child sex abuse?
I've been covering this story for more than 10 years – the scandal broke out in the US in 2002 – and there has been a sea change, both in Rome and among bishops around the world.
Ten years ago it was fairly easy to find Vatican officials and bishops who would go on record denying that a sex abuse crisis existed. They would say that there are isolated incidents, but that the idea of a broad scandal is a media-fuelled conspiracy.
You can't find those guys anymore, they've certainly been driven underground. The tone, these days, from the leadership is remarkably different; it's contrite, there is clear acknowledgement of the Church's failures and real commitment to reforms.
What about the situation on the ground, at the coalface if you like?
I can tell you that at the Catholic grass roots, there are a lot of people who remain skeptical about how real the commitment to reform is; precisely because of these cases, where bishops have been seen publicly to drop the ball and, yet, have not been disciplined.
John Allen is a senior correspondent for the National Catholic Reporter, a US news website and biweekly newspaper. He is based in Rome and has written several books on the Catholic Church.