The three-level parking lot was officially opened on Monday with enough space to house 6,000 bikes. However, its total capacity is expected to reach 12,500 by the end of next year, making it the biggest bicycle garage on the planet.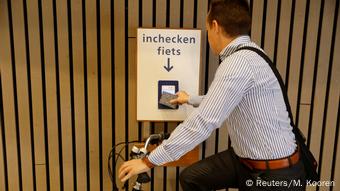 Parking is free for the first 24-hours with the public transport card
Authorities in Utrecht are investing 40 million euro ($47 million) in the project as a part of a major effort to revamp the city's central train station. Once all the works are competed, the transport hub in the Dutch city should offer around 22,000 parking spots for bicycle riders in various locations.
"This is a side-effect of the success of the bicycle in our cities," city councilor Lot van Hooijdonk told Reuters. "We are happy so many people use bikes, but it creates huge challenges for the city, especially around the station."
Read more: The most bicycle-friendly cities worldwide
Amsterdam seized 40,000 bikes
The garage features service points for bicycle repairs, with parking wardens patrolling the premises. Bike lanes connect the garage with train platforms and surrounding streets, and travelers can also rent bicycles from the facility, according to the New Atlas newspage.
The officials hope to restore order in the downtown area of the 344,000-strong city, which is becoming increasingly cluttered with two-wheelers.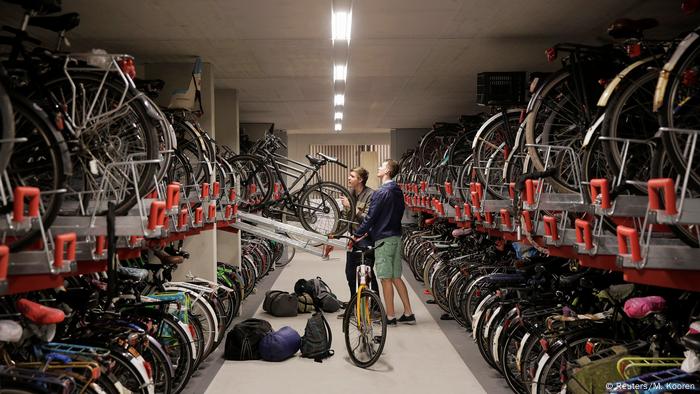 Read more: What do you like about riding a bike?
With bikes becoming the transport mode of choice for millions of Dutch residents, officials in The Hague and Amsterdam are also earmarking funds for massive garages of their own. Other Dutch cities face similar issues.
Last year, Amsterdam officials removed 24,000 neglected bikes and seized around 40,000 of them for parking violations in a drive to free up space for active bike riders.