Intense fighting and major losses on both sides in the Ukraine conflict could prompt a change in global foreign policy for NATO and Washington.
It has been reported that the US and NATO "appear" to be moving towards supplying arms to government forces in Ukraine and that President Barack Obama's administration has been "reviewing" whether to provide so-called "lethal assistance."
A Pentagon official was quoted as saying, "a comprehensive approach is warranted, and we agree that defensive equipment and weapons should be part of that discussion."
Since the start of the conflict in April, Washington had only provided non-lethal aid to Kyiv in a bid to avoid provoking a military response from Russia.
On the possibility of an intervention by western powers, Swiss-American political scientist Daniel Warner told DW that a country cannot go into another state unless there is a real emergency during a civil war.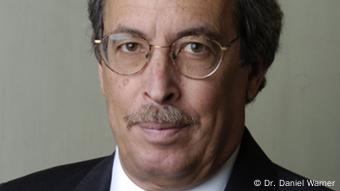 Dr. Daniel Warner is a Swiss-American political scientist based in Geneva
"The problem is, are we dealing with a conflict, and specifically are we dealing with an international conflict," he said. "If it is only a civil conflict, the only way that an outside power can be involved is if it is a threat to international peace and security, at which point they have to go through the UN Security Council to inform that they are intervening, and that the national government has asked them to intervene."
The complexity of the situation was further explained by Warner who said, "otherwise a form of authority or legitimacy is required to enter into something that is an internal, domestic conflict."
Peace through political means
German Chancellor Angela Merkel made a fresh appeal on Monday for a ceasefire to be urgently restored in Ukraine under the terms of the Minsk peace plan. She also said Germany would not support Kyiv's military forces through deliveries of weapons and that the conflict could not be solved through military means.
In a show of unity, the foreign ministers of Russia, China and India also urged all parties in the Ukraine conflict to show restraint.
In addition to calls from the international community to strike a peace deal, the EU and the US have responded to Moscow's alleged support of pro-Russian separatists with harsh economic sanctions. The impact has been felt in recent months with a major drop in the value of the ruble and a fall in oil prices.
EU foreign ministers recently agreed to extend sanctions against Russia for a further six months. Washington followed suit with a pledge to step up its own measures. These are the only concrete moves so far to punish Moscow over its alleged support of pro-Russia separatists in eastern Ukraine.
In consideration of the possibility of a military response, Warner said if it is eventually decided that the crisis is an international conflict involving two or more states, and if someone intervenes, then there must be an emergency. He explained that the only authority able to give legitimacy in this situation would be the UN Security Council.
Pro-Russian separatists, here riding a tank through Donetsk, have threatened a major offensive with 100,000 troops
"So, in a sense, if the US or NATO intervenes, they have to find some form of saying: it is an international conflict, it is a threat to peace and security; and thirdly, what they should do is get permission from the Security Council, which obviously Russia will not give them," he said.
Warner continued that his initial reading of the situation was: "legally, they have very little to stand on to intervene in this conflict in any way."
Burden of proof on the West
Moscow has long been accused by the West of supplying rebels in eastern Ukraine with military hardware, something that the Kremlin has consistently denied.
"If they can make the case that Russia is supplying arms to rebels in the eastern part, then on proportionality, the US or NATO could say we can do the same thing to the government. But they have to make the argument that they have proof that Russia is supplying the arms."
Accusations that both the West and Russia are interfering with Ukraine's internal affairs for their own purposes has also been a constant theme on the sidelines of several attempts to get both sides in the conflict around the negotiating table in Minsk.
The collapse of another round of talks in the Belarusian capital at the weekend dashed further hopes of an end to the crisis, which has killed more than 5,100 people and displaced a further 900,000 since it began in April, according to the UN.
Warner summed up the situation in legal terms regarding the prospect of the US supplying arms to government forces in Ukraine: "Internationality, proportionality and legitimacy - those are the three things that anyone who studied law would want to see."