The Argentine government said Monday the declassification of files by the United States is providing "significant assistance" to ongoing human rights trials over the events of is military dictatorship more than 30 years ago.
The 1,081 files from Washington's archives dating to the presidential administrations of Jimmy Carter and Ronald Reagan were given to the human rights organization "Abuelas de Plaza de Mayo" (Grandmothers of the Plaza de Mayo) and the press by Argentina's Human Rights Secretary Claudio Avruj.
"It is material that is likely to confirm much of what already was said in trials and testimonies," Avruj said at a news conference. "I predict it will help to bring important judgments and will soothe many families."
The newly declassified documents contain statements from victims of torture and arbitrary detention committed by Argentina's dictatorship and recorded in notes from meetings between US officials and the military junta. The Argentine army kidnapped and murdered up to 30,000 people during that period, according to human rights campaigners.
Carter, whose was in office from 1977 to 1981, was critical of the human rights situation in Argentina. But his successor, Reagan, regarded the military junta as a close ally in the fight against Communists in Nicaragua and rightist guerilla movements in Honduras, Guatemala and El Salvador.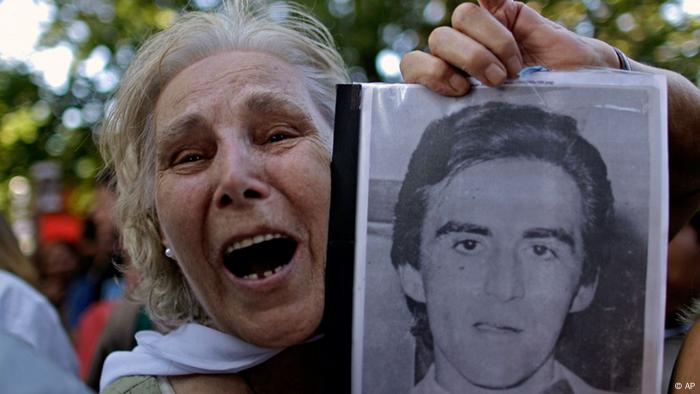 Pepa Pussek holds a picture of her son, one of the victims killed during Argentina's dirty war, as a former junta leader is sentenced in 2012.
Operation Condor's dark legacy
Known as Operation Condor, it was Washington's effort at suppressing leftist movements in Latin America it suspected as being sympathetic to the Soviet Union, its Cold War rival.
Argentina's Deputy Foreign Minister Carlos Foradori said that files from this dark period will help in efforts of "building trust" already underway with the United States.
In May, Argentina sentenced an ex-dictator and 14 former military officials for their part in the US-sponsored Operation Condor which saw rampant human rights abuses.
Former junta leader Reynaldo Bignone, 88, was handed a 20-year prison sentence after being convicted on a myriad of charges including kidnapping and abuse of power. The former general who ruled Argentina in 1982-1983 was already serving life sentences for multiple human rights violations. His former lieutenants received prison sentences ranging from eight to 25 years.
The sentences are seen as a milestone because they mark the first time a court had proved that Operation Condor - which included collusion between a half-dozen South American regimes and the US to violently suppress and assassinate leftist political figures in the Americas and Europe - amounted to a criminal conspiracy.
jar/kl (EFE, dpa, AP)