The governor of the US state of Virginia, Democrat Ralph Northam, was embroiled in controversy on Friday, when a racist photo from his university yearbook page was released by an online media outlet.
In Northam's yearbook page, two people are seen in costumes, one person in blackface and another in a full Ku Klux Klan robe and hood. The Democratic governor admitted that he was in the controversial photo, but did not say which character he was.
"Earlier today, a website published a photograph of me from my 1984 medical school yearbook in a costume that is clearly racist and offensive," Northam said in an apology statement.
Read more: White supremacy and neo-Nazis in the US — what you need to know
"I am deeply sorry for the decision I made to appear as I did in this photo and for the hurt that decision caused then and now," the governor said.
Northam, who was elected in 2017 and whose term expires in 2022, appealed to his constituents for forgiveness, saying he was "ready to do the hard work of regaining" Virginians' trust.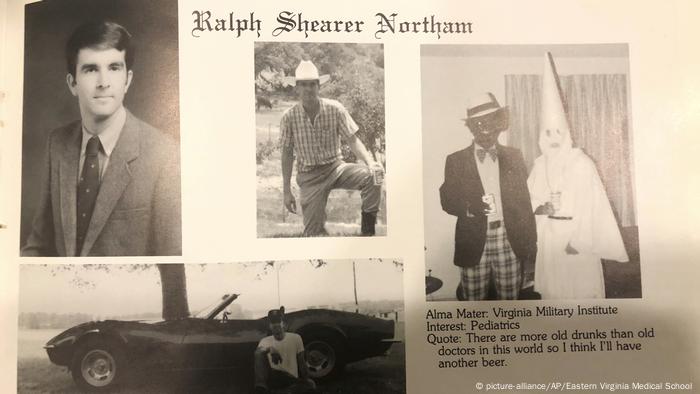 Calls for his resignation
A wave of outrage swept the political field with both Republicans and Democrats demanding that Northam resign. He has so far declined to do so, but in the event of a resignation, Lieutenant Governor Justin Fairfax, who is African-American, would assume the governor's office.
The Republican Party in Virginia put out a statement saying that the photo, coupled with recent statements he made about a contested abortion bill, meant that he had "lost the moral authority to continue to govern and should resign immediately."
Shortly after Northam apologized, the civil rights group NAACP called on him to resign, its president, Derrick Johnson, tweeting that "black face in any manner is always racist and never okay."
Democratic 2020 presidential hopefuls were also swift in their condemnation and urged the governor to resign. Julian Castro, who is of Hispanic descent, said it did not matter if it came from a Republican or a Democrat, the behavior was "unconscionable."
Democratic Senator from New York and presidential candidate Kirsten Gillibrand said that "Americans deserve to be respected by their leaders" and that racism could not be excused in government or anywhere else.
Virginia: a battleground for race relations
The growth of a diverse population surrounding Washington, DC, in the northern part of the state, helped Democrats make gains in Virginia. But as a historically Southern state that was the seat of the Confederacy during the Civil War, Virginia has been an epicenter in the battle between progressives and conservatives over identity issues.
Read more: Charlottesville: Between defiance and new hope
In 2017, the city of Charlottesville was the scene of the Unite the Right rally that saw neo-Nazis march through the city and led to counterprotests, in which a 32-year-old woman was intentionally run over and killed by a white nationalist.
The governor's race that Northam won was fraught with racial animosity, with Republican candidates courting Donald Trump's voting base through hard-line immigration stances. Northam, conversely, ran as a champion of the state's burgeoning Central American immigrant community and supporter of multiculturalism.
jcg/bw (AP, AFP)
Each evening at 1830 UTC, DW's editors send out a selection of the day's hard news and quality feature journalism. You can sign up to receive it directly here.