US President Donald Trump and South Korean President Moon Jae-in "gravely condemned" North Korea's latest missile test on Thursday and promised "stronger" sanctions on Pyongyang during a phone conversation on Sunday, a South Korean government spokesman said after the call.
"The two leaders agreed to strengthen cooperation, and exert stronger and practical sanctions on North Korea so that it realizes provocative actions leads to further diplomatic isolation and economic pressure," presidential spokesman Park Soo-hyun said during a televised briefing.
North Korea fired an intermediate-range missile over Japan, a US ally, early Thursday morning, which the UN Security Council said was "highly provocative" and Japanese Prime Minister Shinzo Abe condemned as threatening to world peace.
Read more: North Korea nuclear crisis: Vladimir Putin warns against 'global catastrophe'
Haley: UN running out of options
The US ambassador to the United Nations Nikki Haley warned Sunday morning that the UN Security Council is running out of non-military options to contain North Korea's nuclear program, and she threatened to hand the matter over to the Pentagon.
"We have pretty much exhausted all the things that we can do at the Security Council at this point," Haley said during an interview on CNN. "We're trying every other possibility that we have but there's a whole lot of military options on the table."
Trump, meanwhile, tweeted about his conversation with the South Korean leader and referred to North Korean leader Kim Jong Un as "Rocket Man."
Pyongyang defiant in face of sanctions
The international community has attempted to increase pressure on North Korea in recent weeks in response to its sixth and most powerful nuclear test on September 3. That test prompted the UN Security Council to pass sanctions banning textile exports and restricting oil exports to the isolated Asian country.
Pyongyang's nuclear and missile programs have significantly advanced since the country carried out its first nuclear test in 2006. The latest nuclear test was five to six times more powerful than the last, according to South Korea's Meteorological Administration.
North Korea's leaders have repeatedly said they need nuclear weapons to defend themselves against "hostile" US forces, 35,000 of which are stationed in South Korea.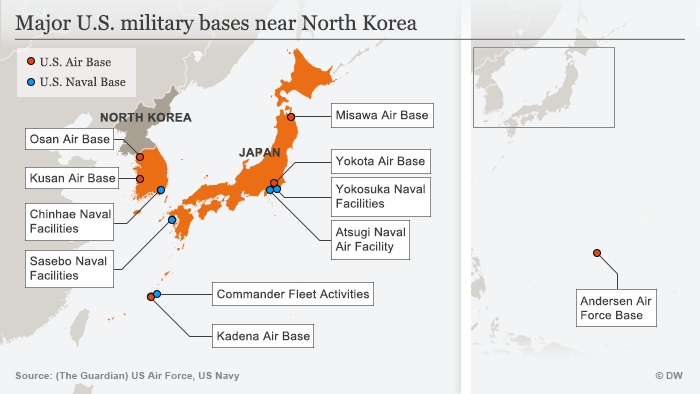 ap, bik/rs (AFP, Reuters)