Debbie Reynolds, a leading figure in Hollywood musicals and comedies, died on Wednesday after being taken to a hospital in Los Angeles.
"She wanted to be with Carrie," her son Todd Fisher told "Variety" magazine. Her movie star daughter Carrie Fisher of "Star Wars" fame was pronounced dead on Tuesday after suffering a heart attack before Christmas.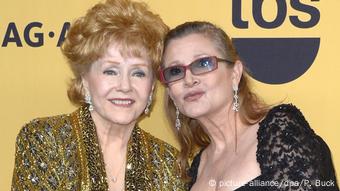 Reynolds (left) with her daughter Carrie Fisher
Fisher told celebrity news website TMZ that his mother had died as a result of a stroke.
The "Los Angeles Times" and TMZ first reported on Reynolds' hospitalization earlier in the day, saying the 84-year-old actress was rushed to Cedars-Sinai Medical Center after paramedics were called to her son's home.
Reynolds had been at her son's house to discuss her daughter's funeral arrangements, TMZ reported, citing unnamed family sources.
'Unique talent, a national treasure'
"We have lost a unique talent and a national treasure. Coming so close to the death of her daughter, Carrie Fisher, this is truly a double tragedy," Screen Actors Guild president Gabrielle Carteris said in a statement. "Their imprint on our culture is profound, and they both will live on."
On social media, fans and fellow celebrities reeled from the shock of Reynolds' sudden death, with many offering condolences to her family.
US talk show host Ellen DeGeneres tweeted: "I can't imagine what Carrie Fisher and Debbie Reynolds' family are going through this week."
Fisher's half-sister, Joeley Fisher, posted a picture of Reynolds, writing "God speed mama" after news circulated of Reynolds' hospitalization. Joeley is the daughter of Reynolds' ex-husband, singer Eddie Fisher.
"Star Trek actor" William Shatner tweeted "It breaks my heart that she is gone," calling Reynolds "one of the last of Hollywood royalty."
Reynolds was well-known for her starring roles in classic musical films in the 1950s and 1960s, including "Singin' in the Rain." She was nominated for an Oscar for her role in 1964's "The Unsinkable Molly Brown" and helped found a group that works to combat mental health issues.
In 2015, she was awarded the Academy of Motion Picture Arts and Sciences' Jean Hersholt Humanitarian Award.
Carrie Fisher passed away four days after suffering a heart attack on a transatlantic flight. She catapulted to fame as the rebel warrior Princess Leia in the original "Star Wars" franchise, and later went on to become a best-selling author and mental health advocate.
rs/cmk (AP, AFP, Reuters)