US celebrity media reported on Friday that US actress Carrie Fisher - best-known for her role as the rebel warrior Princess Leia in the original "Star Wars" trilogy - collapsed 15 minutes before the plane landed at LAX airport.
The 60-year-old suffered cardiac arrest and was given cardiopulmonary resuscitation by an emergency services worker on board.
According to the Los Angeles Times, Fisher was rushed to a nearby hospital in a critical condition.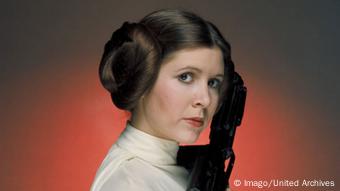 Carrie Fisher as Princess Leia in the 1977 film 'Star Wars Episode IV: A New Hope'
In a statement to AFP news agency, the Los Angeles Fire Department (LAFD) did not refer to the actress by name but confirmed that it had responded to an alert just after midday over "a patient on an inbound flight in cardiac arrest."
"LAFD firefighter paramedics were standing by and provided immediate advanced life support and aggressively treated and transported the patient to a local hospital," LAFD spokesman Erik Scott said.
United Airlines also issued a statement saying that Flight 935 from London to Los Angeles was met on the ground by medical personnel after the crew reported that a passenger was "unresponsive." The airline did not name the stricken passenger.
Later on Friday afternoon, the actress' brother Todd Fisher told Reuters news agency that she remained in intensive care in a critical condition.
"It's not fair to say 'stable.' I am not saying she is fine, or not fine," he said.
Several celebrities tweeted their best wishes to Fisher, including former co-star Mark Hamill, who played Jedi knight Luke Skywalker in the "Star Wars" saga.
Book tour
Fisher has been on tour in recent weeks, promoting a new memoir "The Princess Diarist." Known for her searingly honest semi-autobiographical novels, she has given several interviews over the years about her diagnosis of bipolar disorder and addiction to prescription drugs and cocaine, which she admitted using on the set of "The Empire Strikes Back" in 1980.
She has also discussed being treated with electroconvulsive therapy, in which small electric currents are passed through the brain, to trigger brief seizures.
ksb/kl (AFP, Reuters)