The University of Heidelberg has withdrawn the Ph.D of German former Free Democrat (FDP) politician Silvana Koch-Mehrin.
The University of Heidelberg said the doctoral committee investigating allegations of plagiarism found that her thesis contained substantial passages that were taken from other sources, for which there were no footnotes to indicate that the work was not her own.
During the two month-long investigation, the committee found more than 120 plagiarized passages in over 80 pages of Koch-Mehrin's doctoral thesis on the 19th century Latin Monetary Union. They came from more than 30 different sources, two thirds of which were not identified.
Serious measure
"The doctoral committee understands that the withdrawal of a Ph.D is a serious measure, and didn't take this decision lightly," Manfred Berg, the chairman of the committee said.
However, the findings of the investigation left the committee with no choice but to withdraw the degree, Berg added.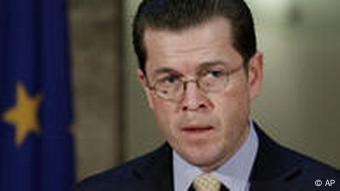 Guttenberg also fell over a dodgy dissertation
Until last month, Koch-Mehrin, 40, had been one of the Free Democratic Party's most prominent politicians. However, she resigned as vice president of the European Parliament and head of the German FDP in Europe after the allegations of plagiarism were made public in newspaper articles last month.
Koch-Mehrin is the second prominent German politician this year to have been forced to resign over a plagiarized thesis. Former Defense Minister Karl-Theodor zu Guttenberg stepped down on March 1, after the University of Bayreuth found that he had "deliberately cheated" in his thesis.
Author: Chuck Penfold (dpa, AFP)
Editor: Susan Houlton