Cornelius Gurlitt may have died in his Munich apartment on May 6,but his passing does nothing to the investigations into the world's most notorious art collection, one that includes works by Beckmann, Dix, Chagall, Matisse, Courbet and many other leading lights of artistic Modernism.
Gurlitt was a strange figure, a virtual hermit who became the unwilling focus of public attention in November 2013, when it emerged that many works in his collection, which had been confiscated by tax authorities, might have been looted by the Nazis or otherwise illegitimately acquired.
The foundation of the collection was laid by Gurlitt's father Hildebrand, one of the most influential art dealers in the Third Reich. Cornelius Gurlitt, then 80 years old, initially insisted that he was the lawful owner of the art works and petitioned for their return.
In April 2014, authorities and Gurlitt struck a deal whereby all of the 1,280 paintings that could potentially have been stolen or acquired by coercion would be evaluated by a taskforce of 15 experts within a year. Gurlitt pledged to return all works of dubious provenance to their rightful owners in return for being allowed to keep the remainder of his collection.
Gurlitt's lawyer announced his death on Tuesday (06.05.2014). On Wednesday, German news outlets "Süddeutsche Zeitung," "NDR" and "Bild" reported that, according to Gurlitt's will, the art collection would go to the Kunstmuseum Bern in Switzerland. The taskforce, however, intends to continue its research.
"We feel ourselves duty bound to stick to the agreement we reached with Mr. Gurlitt," taskforce spokesman Matthias Henkel told DW.
Despite Gurlitt's death, the issues behind this spectacular collection will continue to occupy public attention in the months to come.
A sordid story
The case opened up questions about why authorities both among the victorious Allies and in post-war Germany seem to have done so little, or been so ineffective, in tracking down artworks that had illegitimately traded hands in the Third Reich.
Marc J. Masurovsky, the co-founder of the Holocaust Art Restoration Project, characterized Hildebrand Gurlitt as a man "who was given significant responsibilities during the 12-year reign of the National Socialists both to recycle thousands of so-called 'degenerate' works purged by decree from German public collections and to acquire untold numbers of works and objects of art at auctions inside the Reich and from galleries, dealers, collectors and artists living and working in German-occupied territories."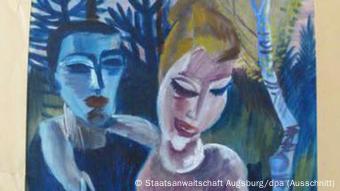 The collection includes some of the biggest names in 20th century art
For the Allied occupiers of Germany after World War II, tracking down works of art was a low priority. And as life gradually went back to normal in post-war West Germany, German authorities and museums had little incentive to open up a Pandora's Box from the past.
Moreover, the standard operating procedure of the art world itself was also culpable in works being kept from their rightful owners.
"The art world thrives on discretion and the law of silence that binds collectors and dealers, gallerists and curators, buyers, brokers and sellers," Masurovsky said in an interview with DW. "To some extent Gurlitt's collection was hiding in plain sight. How else do you explain repeated requests to exhibit [works by Max Beckmann] in museums during the period of American control over a small portion of his collection."
Cleaning up a past mess
Speaking to DW after Gurlitt had reached his deal with Bavarian authorities, even the collector's lawyer, Stephan Holzinger, took past governments to task for their disinterest in the issue.
"Mr. Gurlitt has done more and been willing to do more by now than the Federal Republic of Germany has done in the last decades," Holzinger said. "The Federal Republic of Germany hasn't done its homework when it comes to Nazi looted art."
It is now down to the taskforce to sort out which works will remain part of Gurlitt's estate, and which will be given back to the original owners or their descendants.
"Much of the background research has already been completed, and I'm confident that in the coming months, a very large part of the artworks will be reviewed in this way," the head of the task force Ingeborg Berggreen-Merkel told DW in an interview last April. "The most important thing with regard to the Holocaust survivors and their heirs is to prioritize and quickly assess those works suspected of having been extorted and seized from people under harrowing conditions."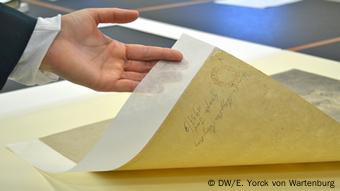 It will still take months to sort through the works in the collection
Berggreen-Merkel added that the provenance of some 500 works in the Gurlitt collection could be dubious.
The experts will be sorting out the history of those works for roughly the next 11 months. Cornelius Gurlitt himself will go down in history as a rather emotionally stunted figure who had a hard time understanding the outrage his collection generated, when its existence became public knowledge in late 2013.
"I didn't love anything in life other than my pictures," Gurlitt said in a widely read article in the news magazine "Der Spiegel." "Why couldn't they wait until I died to take them away?"
But Germany's Culture Minister Monika Grütters praised Gurlitt for belatedly accepting responsibility for the legacy from the past.
"It will remain a credit to Cornelius Gurlitt that he, as a private individual, set an example in the search for fair and just solutions with his commitment to moral responsibility," Grütters said in a statement. "He rightly received recognition and respect for this step."