A regional UN source said on Friday the organization was frustrated about the impact of last weekend's border closure between Gaza and Israel on aid work and its attempts to negotiate the Palestinian-Israeli peace process.
The UN Special Coordinator for the Middle East peace process (UNSCO) will not send staff to Gaza until further notice, the source told the news agency Agence France-Presse. The border restrictions also affect UNSCO's envoy Nickolay Mladenov.
Mysterious killing
The Islamic militant group Hamas, which runs the Gaza Strip, shut the crossing after blaming the Jewish state for the assassination of a senior military figure near his home last Friday. Israel has not commented on the killing.
Officials said restrictions at Erez, which is the only pedestrian land border between Israel and Gaza, would remain in place until further notice.
Movement in and out of Gaza is already tightly restricted by Israel and Egypt, who have maintained a blockade on the coastal territory since Hamas took power a decade ago.
Although the crossing was partially reopened a day later, men between 18 and 45 are still prevented from leaving the enclave, as a manhunt for Faqha's killer continues.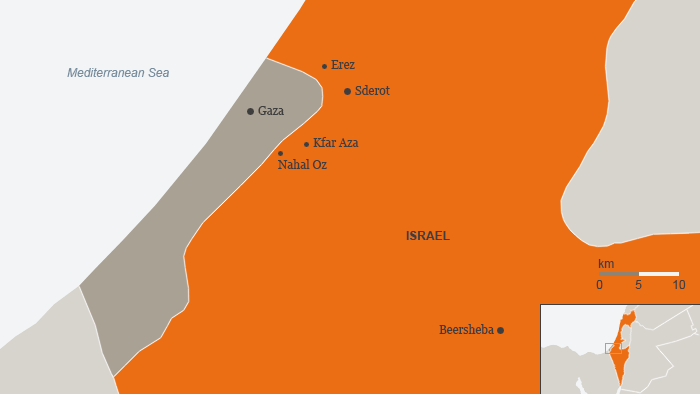 Half a dozen international aid workers were also stopped at the border, which led more than 100 NGOs and rights groups to demand the crossing urgently be reopened.
Around two thirds of Gaza's residents rely on aid to survive, according to UN figures.
Despite Israel's own blockade, it does grant hundreds of permits for medical, educational, business and other reasons per week.
Impact on residents felt
The World Health Organization said on Thursday that 79 patients have missed medical appointments, meaning they will have to reapply for hard-to-get travel permits from Israel.
One resident, Abu Aassi, said that he ended up missing an appointment that had taken him three weeks to wangle.
"I totally understand the situation, but there also has to be a solution to the situation," he appealed to Hamas.
Other Gaza residents have complained after some 3,000 fishermen were banned from going to sea, leaving local shops without supplies.
"The fish market is almost empty, and this is because of the closure of the sea," said Zakareya Bakker, a 45-year-old fisherman.
The leader of a local business association says he was in contact with authorities to try to improve daily life while the blockade remains in place.
mm/kl (AFP, AP, dpa)