The United Nations Security Council committee overseeing sanctions on Friday, July 15, removed 14 former Taliban leaders from an international blacklist as part of a bid to encourage peaceful reconciliation in war-torn Afghanistan.
Germany's UN ambassador Peter Wittig, who heads the Security Council for July, said the decision "sends a strong signal: the Security Council and the international community support the efforts of the Afghan government to engage reconciled Taliban in a political dialog in order to achieve peace and security in Afghanistan."
Ahead of the Friday decision, 137 Taliban insurgents were on a sanctions list that called for a travel ban, an asset freeze and an arms embargo.
'Peace pays off'
Wittig named only four of those delisted: Arsalan Rahmani Daulat, Habibullah Fawzi, Sayeedur Rahman Haqani and Faquir Mohammad - all members of the High Peace Council established by Afghan authorities last September.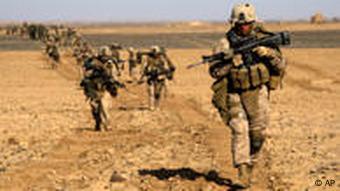 The Taliban say there won't be talks until foreign forces leave
"The international community recognizes efforts made by members of the High Peace Council to work toward peace, stability and reconciliation," Wittig said. "All Afghans are encouraged to join these efforts. The message is clear: engaging for peace pays off."
Afghan President Hamid Karzai's office has called the creation of the High Peace Council a significant step toward building peace, although the Taliban have still refused to engage in talks, saying all foreign forces must first leave Afghanistan.
The Security Council's decision came four weeks after the body split a joint sanctions list of Taliban and al-Qaeda figures into two - one list for each group.
The split was intended to highlight the distinction between the global al Qaeda terror network and the Taliban, which ruled Afghanistan until they were driven from power by US-backed forces in 2001.
US President Barack Obama in June announced that 33,000 American troops would leave Afghanistan by the end of next summer, kicking off a gradual drawdown due to be completed in 2014.
Author: David Levitz (AFP, Reuters)
Editor: Toma Tasovac