According to a damning UN report released on Tuesday to coincide with UK Anti-Slavery Day, nearly three quarters of all migrants moving from North Africa to Europe have experienced serious abuse, exploitation and practices that could amount to human trafficking.
The survey, conducted by the International Organization for Migration (IOM), quantifies for the first time the alarming scale and frequency of the increasingly prevalent exploitative practices, including instances of forced labor that may amount to modern slavery.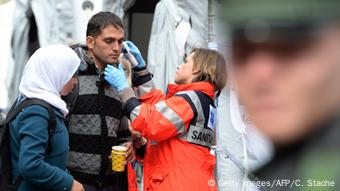 Medical staff check a refugee upon arrival at Munich's main train station in September 2015
The IOM spent 10 months interviewing over 9,000 migrants at arrival ports such as Italy in order to derive these latest figures.
Clea Kahn, Humanitarian Advocacy Manager at the British Red Cross said: "The horrific experiences of people making this journey - regardless of where they started it or why - must be acknowledged and addressed. It is a humanitarian crisis in its own right."
A perilous journey
Nearly half of the migrants surveyed (49 percent) indicated that during the course of their journey, they had been held in a location against their will in circumstances that amounted to kidnapping for ransom.
The overwhelming majority of these reports came from Libya, which is currently in the grip of an unstable civil war.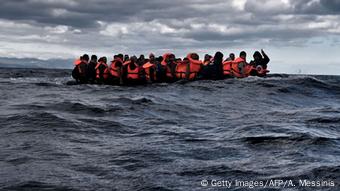 Refugees and migrants sail towards the Greek island of Lesbos in 2015
The new data also strongly suggests that the longer migrants spend in transit,the more vulnerable they are to exploitative practices or trafficking. The 79 percent of respondents who had spent longer than 12 months somewhere other than their country of origin indicated that they had experienced at least one form of exploitation.
The UK's Independent Anti-Slavery Commissioner Kevin Hyland said in a statement: "There is an urgent need for action to protect these people. I believe that a key focus … must include safeguarding against the risks of modern slavery as part of the response to the migration and refugee crisis."
Limited room to move
Migrants taking the Central Mediterranean route by sea to Italy were seven to ten times more likely to experience exploitative practices than those travelling overland through Greece and Turkey - the Eastern Mediterranean route.
Those interviewed in Italy were more likely to have spent longer than six months in transit (35 percent) compared to the 11 percent taking the Eastern Mediterranean route.
Growing numbers of refugees have been forced to rely on the more perilous route since a deal was struck between the EU and Turkey in March, limiting the ability for migrants to cross from Turkey to Greece.