Myanmar's military committed crimes against humanity in Rakhine State, including murder, rape, torture and violence against children, as well as the destruction of whole villages, according to a UN report released Monday.
The UN's Independent International Fact-Finding Mission on Myanmar said there was evidence of genocide in Rakhine State, and that the findings were "undoubtedly amount to the gravest crimes under international law," the report states.
Read more: Rohingya people in Myanmar: what you need to know
The report's key findings
Military necessity would never justify killing indiscriminately, gang-raping women, assaulting children, and burning entire villages.
Top military generals, including Commander-in-Chief Senior-General Min Aung Hlaing should be prosecuted for genocide in the north of Rakhine State, as well as for crimes against humanity and war crimes in Rakhine, Kachin and Shan States.
Rape and sexual violence were part of a deliberate strategy to intimidate, terrorize or punish a civilian population, and were used as a tactic of war.

Myanmar leader Aung San Suu Kyi failed to use her position as head of government or her moral authority to prevent the atrocities.

The military leadership should be brought before an international tribunal.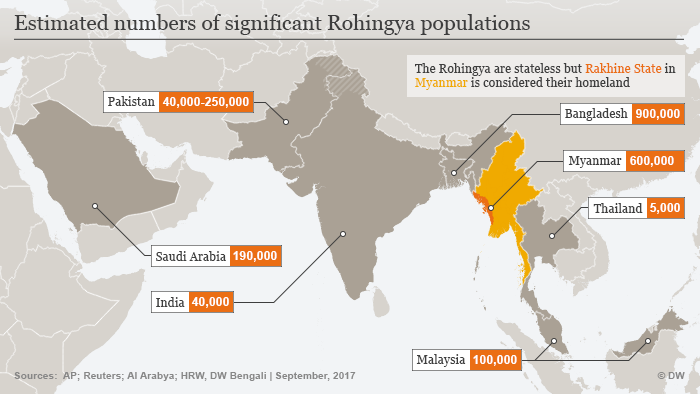 'Time's up' for Myanmar's military
Laura Haigh, a Myanmar researcher at Amnesty International, told DW that the UN report was a positive step but there was a long way to go before people would be held to account.
"As the experts themselves make clear, it is the international community that now has the responsibility to act and ensure that these military commanders, who oversaw this operation, are held to account," Haigh said.
Phil Robertson, deputy director of Human Rights Watch Asia, echoed Haigh, saying the report meant time had run out for the Myanmar military.
"By leveling these grave charges in such a comprehensively documented report, the fact-finding mission is declaring that time's up for the system of impunity the Burmese Myanmar military has hidden behind for decades," Robertson said.
Britain's Foreign Ministry said those responsible for the atrocities must not escape punishment.
"There cannot and must not be impunity for such acts," junior foreign minister Mark Field said.
Crackdown in Rakhine State: A series of coordinated attacks on Myanmar police posts in western Rakhine State led the military to launch the violent crackdown on the Rohingya people on August 25 last year, driving more than 700,000 Rohingya into Bangladesh, including at least 370,000 children.
Read more: Myanmar's Rohingya: A history of forced exoduses
Persecution of the Rohingya: The Rohingya have long been subject to persecution in Myanmar. After military rule began in the country in 1962, the situation for the Rohingya worsened and government campaigns saw thousands of Rohingya pushed into neighboring Bangladesh. A new citizenship law passed in 1982 further exacerbated the situation — 135 national ethnic groups were identified but the Rohingya were not included, rendering them stateless.
law/rt (AP, AFP, Reuters)
Every evening at 1830 UTC, DW's editors send out a selection of the day's hard news and quality feature journalism. You can sign up to receive it directly here.