A growing number of conflicts and natural disasters are spreading misery across the globe, affecting some 125 million people, the UN said on Monday, as it requested a record amount of aid from donor governments.
Conflict has engulfed 27 countries, the UN said, while in six cases - the Central African Republic, Burundi, Nigeria, South Sudan, Syria and Yemen - the impact extends across borders to affect 37 countries.
"Human suffering has reached levels not seen since the Second World War," UN humanitarian aid chief Stephen O'Brien said on Monday. "Conflicts and disasters have driven millions of children, women and men to the edge of survival."
The UN agencies for health (WHO), refugees (UNHCR), humanitarian assistance (OCHA) and other humanitarian partners requested $19.9 billion (18.4 billion euros) last year, but donor governments failed to fund aid operations, leaving a record funding gap of $10.2 billion (9.4 billion euros) this year.
The funding shortfall has impacted the provision of food, shelter and health care to millions of the world's most vulnerable.
"The international humanitarian system is all too often the only safety net that exists for people fleeing wars," UNHCR head Antonio Guterres said. "It has to be funded on a scale that's realistic and commensurate with today's immense challenges."
"It is clear that with the present level of resources, we are not able to provide even the very minimum in both core protection and life-saving assistance," he added.
Next year UN agencies want to help the most vulnerable 87 million people out of 125 million in need. Some 40 percent of the appeal is to respond to the Syria crisis, which, along with conflict in Iraq and Afghanistan, has triggered a flood of refugees to Europe.
The UN said conflicts in Syria, Iraq, South Sudan and Yemen are the "greatest drivers of prolonged humanitarian needs."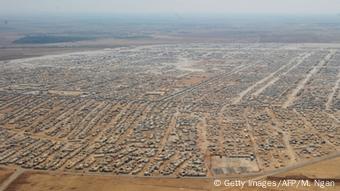 Conflicts around the globe have displaced 60 million people from their homes.
"Mass movement of people, be it refugees or people fleeing within their own countries, has become the new defining reality of the 21st century," Guterres said.
cw/jr (AFP, AP, dpa)