A Ukraine International Airlines flight crashed on Wednesday shortly after takeoff from Imam Khomeini airport, Tehran's main international airport, killing all 176 on board, Iran's state television has said.
Ukraine's Foreign Ministry confirmed there were no survivors among the 167 passengers and nine crew members bound for Kyiv's Boryspil airport. Most of the passengers were nationals of Iran, Canada and several European countries, including Germany and the UK. All crew members were Ukrainian.
What we know
It was not immediately clear what caused the Boeing 737-800 aircraft to crash, but Iranian news agency Fars reported it was suspected to have been caused by technical issues, as did Iran's official news agency IRNA.
Iran's civil aviation spokesperson Reza Jafarzadeh said that an investigation team was present at the site of the crash close to the airport in the southwestern peripheries of Tehran.
"After taking off from Imam Khomeini international airport it crashed between Parand and Shahriar," Jafarzadeh said. "An investigation team from the national aviation department was dispatched to the location after the news was announced."
The black boxes from the aircraft have been recovered from the crash site by Iranian authorities. Iran will not give the black box recorders to Boeing, said the head of the country's civil aviation authority, quoted in Iran's Mehr news agency.
According to air tracking service FlightRadar24, flight data from Imam Khomeini International Airport showed that a Ukrainian 737-800 aircraft flown by Ukraine International Airlines took off Wednesday morning, then stopped sending data almost immediately afterward.
A Boeing Co. spokesperson told the Associated Press the company was "aware of the media reports out of Iran and [was] gathering more information."
The crash came hours after Iran launched a ballistic missile attack targeting two bases in Iraq hosting US forces in retaliation for the US killing of a top Iranian commander.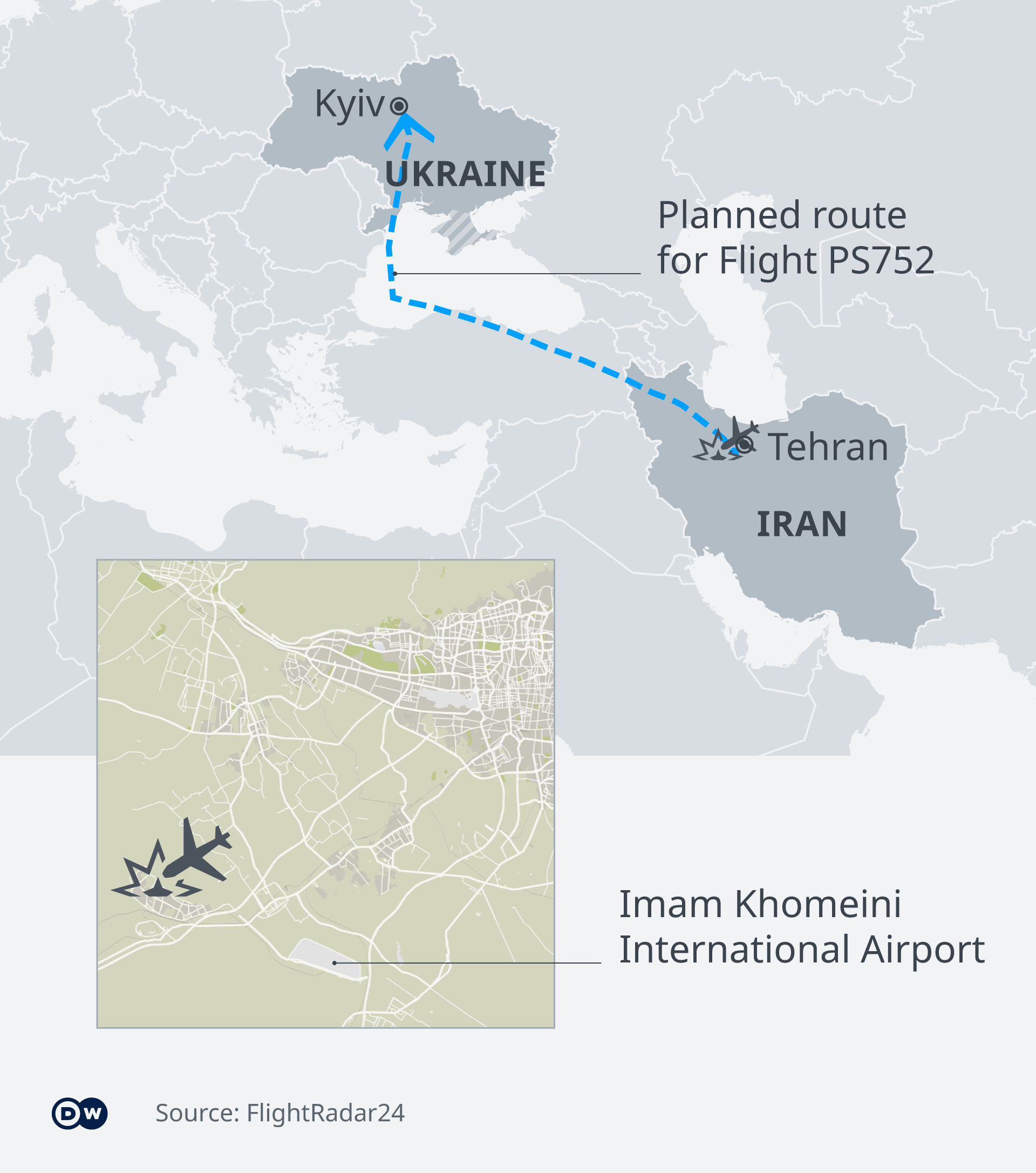 Reaction from Ukraine
Ukraine's President Volodymyr Zelenskiy in a post on Facebook cautioned against speculating on the cause of the crash.
"I ask everyone to refrain from speculating and putting forth unconfirmed theories about the crash," he wrote.
Ukraine will open its own criminal investigation into the crash of its plane, with President Zelenskiy saying he instructed the country's attorney general to open proceedings. "We have to investigate all possible versions," Zelenskiy said.
Ukraine's Foreign Minister Vadym Prystaiko said he had spoken with his Iranian counterpart Javad Zarif. "Agreed to coordinate further actions of our investigation groups closely to determine the cause of the terrible plane crash," tweeted Prystaiko.
A statement posted on the Ukrainian embassy's website suggesting the crash was caused by an engine failure and ruling out an act of terror was later omitted.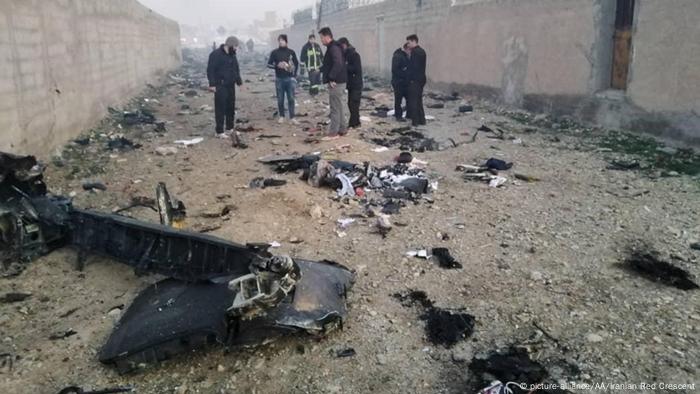 The plane crashed just outside of Tehran
Condolences for the victims
Prystaiko released the nationalities of those killed in the crash, which include 82 Iranians, 63 Canadians, two passengers and all nine crew members were from Ukraine, 10 Swedish passengers, four from Afghanistan, three from Germany and three from the UK.
President Zelenskiy has expressed "sincere condolences to the relatives and friends of all passengers and crew" and has cut short a visit to Oman following the incident.
"It was one of the best planes we had, with an amazing, reliable crew," Yevhen Dykhne, president of the Ukraine International Airlines, said at a briefing following the crash.
Ministers of foreign affairs tweeted condolences following the crash. Both Sweden's and Canada's Foreign Ministers, Anne Linde and Francois-Philippe Champagne, called the crash "tragic." Champagne added "our hearts are with the loved ones of the victims,
including many Canadians."
Afghanistan's ministry of foreign affairs tweeted that it was "saddened to learn that 10 Afghan civilians were killed" and its embassy in Tehran is making arrangements to identify the victims.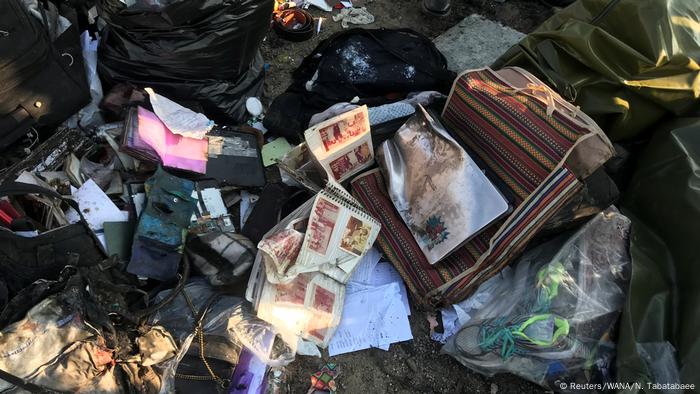 Officials are trying determine who was on the flight
Boeing 737-800: 'Excellent safety record'
Aviation expert Geoffrey Thomas praised the Boeing 737-800's "excellent safety record," adding that it was "the most reliable airplane in commercial operation today" with over 7,000 such aircraft in operation worldwide.
The crash was Ukraine International Airlines' first fatal incident. Thomas, speaking to DW; said the airline was "highly respected."
The Boeing 737-800 is an older model than the Boeing 737 MAX, which has been grounded for almost 10 months following two crashes, one in Ethiopia and the other in Indonesia.
FlightRadar24 said the Ukrainian flight on Wednesday was not operated by a Boeing 737 MAX.
Iran has suffered a series of fatal air accidents in recent years. Decades of international sanctions imposed on the country has taken a toll on its commercial passenger aircraft fleet.
kmm, mvb/stb (dpa, Reuters, AFP, AP)
DW sends out a daily selection of hard news and quality feature journalism. Sign up here.