Ukrainian border guards found the stolen paintings hidden in plastic bags on a small island on the Dniester River between Ukraine and Moldova, about 1.5 kilometers (1 mile) from the border.
The 17 paintings, including works by Peter Paul Rubens, Pisanello, Caroto, Tintoretto and Mantegna, were stolen from Verona's Castelvecchio museum last November. They have a combined, estimated value of 15 million euros ($16 million).
"Today, this brilliant operation reminds the world about the efficient struggle of Ukraine against smuggling and corruption, inter alia, smuggling of works of art," said Ukrainian President Petro Poroshenko, presenting the works in Kyiv on Wednesday. Ukraine has been under international pressure from its creditors and governments to show a commitment to tackling corruption and crime.
"We have not only preserved the global value of these paintings, but also reaffirmed Ukraine's prestige by such efficient actions," Poroshenko added.
Ukrainian authorities will invite Italian experts to authenticate the paintings which include "Portrait of a Lady" by Flemish Baroque painter Peter Paul Rubens, "Male Portrait" by Venetian artist Tintoretto and works by Pisanello, Jacopo Bellini, Giovanni Francesco Caroto and Hans de Jode.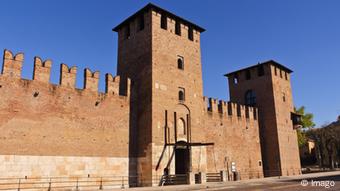 The artworks were stolen from Verona's Castelvecchio Museum in November
Stolen to order?
In the November heist, three masked armed men entered the Verona museum after it closed and just before its alarm system was activated. They tied up a security guard and a cashier, took the paintings and escaped in the security guard's car.
Italian police and media reports have suggested the artworks were stolen to order for a buyer based in Chechnya. The paintings may have been sent by post from Moldova to Ukraine's Odessa border region and kept there by members of a criminal group, including nationals from Ukraine, Moldova and Russia.
In March, the Italian authorities said they had arrested 13 suspects in the case in Italy and Moldova. The arrests included the Italian guard on duty when the robbery took place and his twin brother, along with the brother's Moldovan wife, who were arrested in Italy.
Dario Franceschini, Italy's minister of cultural heritage, thanked the Ukrainian authorities on Wednesday for their help in tracing the paintings. "It is a great day," he said in a statement. "The artworks will soon be back in the Castelvecchio in Verona."
"We are breathing an enormous sigh of relief and we are very happy because it is an important piece of Verona that is to be returned to the citizens of the city and the whole world," said Verona Mayor Flavio Tosi.
jm/cmk (Reuters, AP)