Cheers, jeering and commotions filled Uganda's parliament as members of parliament openly voted on the draft bill to scrap Uganda's presidential age-limit. 317 voted to end the age-limit while 97 voted against it. Now President Museveni has to sign off the bill and it will then become law.
The timing for the debate is crucial. In three years, Uganda will hold general elections, President Museveni who has been in power for 31 years, would technically be too old run for office again.
Do we want to end up like the government of Libya, a supporter of scrapping the age-limit asked during the debate. The example of Nelson Mandela was called up – after all, he was over 75 when he took office. Kenya, Tanzania and the US don't have presidential age-limits, one lawmaker argued – they do however have term limits, she added.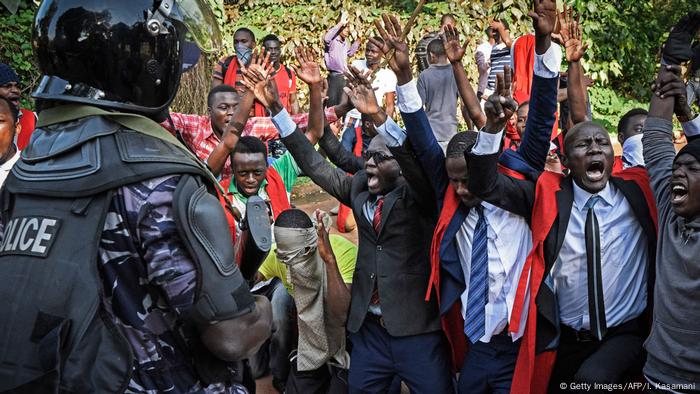 Wearing red ribbons, students protested the draft bill when it was initially tabled in September, 2017
Voices from Kampala
On the streets of the capital, people showed mixed reactions to the outcome of the vote. "I had heard that many legislators had said that they would not vote in favor, I'm very disappointed," one Kampala resident told DW.
"I don't understand why people are making noise and shouting. They know democracy is about numbers," another resident argued. "The opposition said it had support, now the NRM has won, that's the power of the majority,"
Museveni's ruling party, the National Resistance Movement (NRM), still holds over two-thirds of the seats in parliament, yet they too were divided on the issue. "I don't subscribe to the view that my party is under resourced in terms of leaders," Patrick Nsamba, a lawmaker and member of Museveni's party told DW. "I still believe that within the NRM party, we have nurtured leaders who can perform even better than the person we are amending this constitution for."
Some lawmakers from northern and eastern Uganda even threatened a secession should the bill go through. "You have sat on us enough, we shall decide our own destiny, we shall secede from this country, we are big enough," said opposition member, Reagan Okumu.
The parliamentary debate which started on Monday, was met with scuffles inside parliament, as well as, outside where police blocked some of the lawmakers from entering the building. The two, Wilfred Niwagaba and Merdad Ssegona, were blocked and later detained as they attempted to serve court documents against the Speaker of the House Rebecca Kadaga.
She suspended six opposition lawmakers for alleged 'disorderly conduct' in parliament. On Tuesday, the debate was adjourned as some members of parliament said that soldiers and police had entered the chambers.

More time for Museveni
The amendment to the constitution would be the second major change to Uganda's 20-year-old constitution. The two amendments directly favor Museveni's continued stay in power. In 2005, parliament voted to change the constitution allowing a president to serve more than two five-year terms. Although he came to power in a rebellion in 1986, Museveni ran the country unelected for ten years until 1996 when Uganda lifted its ban on political parties. The 2005 amendment allowed Museveni to stand again.
Museveni is now serving his fifth term as Uganda's president and while Uganda's opposition alleged voter fraud and rights groups recorded the intimidation of the opposition and the media, Museveni's party is still seen as the strongest player in Uganda's politics.
"Museveni was quite appealing when he came [to power] because of Uganda's violent history and the challenges the country was facing. He was kind of a breath of fresh air," Norbert Mao, the president of the opposition Democratic Party, told DW in an interview earlier this year. "But he has shattered our hopes. He manages to stay in power by changing rules to serve him."
Museveni is Africa's third longest serving president after Cameroon's Paul Biya and Equatorial Guinea's Teodoro Obiang Nguema Mbasogo.