The case of university lecturer Stella Nyanzi is seen as a key test for freedom of expression in Uganda and is being widely followed, as few people dare to criticize the country's first family.
Nyanzi was charged with "cyber harassment" and "offensive communication" earlier this month (10.04.2017) after she called President Yoweri Museveni "a pair of buttocks" and his wife "empty-brained" in a Facebook post.
Three days later she was remanded in Luzira prison.
Nyanzi said that Ugandans should not be offended by her language, but by Museveni's failure to keep his promises, including an election pledge to provide free sanitary pads for poor girls so they don't have skip school. Nyanzi was engaged in a social media campaign to raise funds for pads before her arrest.
On Tuesday (25.04.2017) she was remanded in Luzira again until May 10, pending a bail application on Wednesday, local media reported.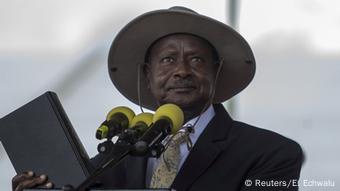 President Museveni has been in power since 1986
Psychiatric tests
Defense lawyer, Nicholas Opiyo, said earlier this month that Nyanzi told him that the prison authorities had tried to trick her into taking a psychiatric test shortly after she was first detained.
Opiyo said they wanted to "de-leigtimize Stella, characterize her a fool, a mad person and confine her to a mental hospital."
Frank Baine, a spokesman for Uganda's prison system, said the claim of a mental exam was "fictitious" and fabricated by Nyanzi's lawyers.
The website of pro-government paper New Vision said on Tuesday (25.04.2017) that State Attorney Jonathan Mugwanya had submited to the court that there was evidence that Nyanzi had a history of "erratic psychiatric disorder."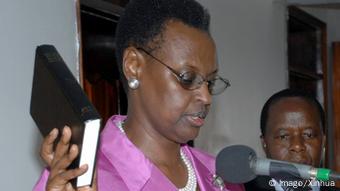 First Lady Janet Museveni serves as education minister
Defense lawyer Isaac Semakadde told DW there had been numerous attempts to examine Nyanzi by force.
"Our client has objected to the conduct of any pyschiatric assessement on her without a court order, without her family represented, without her lawyer present and without her personal doctor," he said.
Display of solidarity
Defense lawyers also said that Nyanzi had not been allowed to hold confidential meetings with her legal team or family members.
Members of human rights groups and women's activism groups turned up outside the court to show solidartiy with Nyanzi.
Amnesty International and Human Rights Watch have called for her release.
Anti-government protests are rarely permitted in Uganda and are often dispersed by police beatings, teargas and the detention of activists.