The San Francisco-based company told the news agency AFP that its rules prohibit "violent threats, harassment, hateful conduct." It already prohibits hate speech based on race, gender, religion, disability or sexual orientation.
On Tuesday the financially ailing company rolled out a new tool to stop harassment by "trolls" with an expanded "mute" feature that enables users to block accounts sending inappropriate messages. Users will be able to eliminate - or mute - notifications based on keywords, phrases or entire conversations they are not interested in seeing.
"The amount of abuse, bullying, and harassment we've seen across the internet has risen sharply over the past few years," Twitter said as it announced the suspensions.
Twitter support staff have been retrained on its policies and internal processes have been tuned to deal more effectively with reports of abusive behavior, with a goal of being faster and more transparent in handling situations, Twitter said.
In February it suspended over 125,000 accounts, most of them linked to the Islamic State group.
Freedom of speech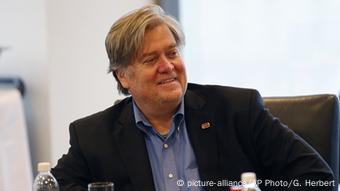 US president-elect Donald Trump's new chief strategist Stephen Bannon has come under scrutiny for alleged ties to the the alt-right
Online social media has long struggled to balance free speech with cyber-bullying.
Twitter has been criticized for not stopping abusive behavior on its platform. The Southern Poverty Law Center - a non-profit organization that tracks what it views as hate groups and other extremists - asked Twitter to remove over 100 accounts of white supremacists.
The right reacts
The accounts include that of Richard Spencer, a leader in a so-called 'alt-right' movement in the US and accounts associated with his magazine and think tank.
Spencer reacted in a style familiar to those that know him, saying in a video posted on YouTube that the move was akin to the 1934 Night of the Long Knives in Nazi Germany. "I think Twitter, Facebook and others are deeply triggered by this election and that social media helped elect Trump."
"It is corporate Stalinism; there is a great purge going on … I am alive physically but digitally speaking there has been execution squads across the alt-right," Spencer said.
Spencer has advocated for the creation of a white "ethnostate" in North America or Europe.
The movement was prominent during the US presidential campaign, and since Republican nominee Donald Trump named Steve Bannon (pictued above) - who formerly headed Breitbart News, a website that has been deemed a voice for the alt-right movement - his chief White House strategist.
Others whose accounts have been suspended include Pax Dickinson, founder of alt-right site WeSearchr; an alt-right internet personality who goes by the fake name Ricky Vaughn; and blogger Paul Town, who describes himself as "the leading thought leader of alt-right," CNN reported.
jbh/bw (Reuters, AP, AFP)