Turkish riot police on Saturday blocked a sit-in in Istanbul that has been held for decades to demand justice for political activists who disappeared in the 1980s and 1990s while in police detention or were victims of extrajudicial killings.
Police obstructed the path of some 300 participants marching to the planned rallying point, Galatasaray Square, with several armored water cannon vehicles.
After being prevented from carrying out their sit-in, the group, the "Saturday Mothers," gave a press statement and then left the area, according to the daily Cumhuriyet.
"We are in Galatasaray because the criminals have not been punished although their identities are known," the statement said, as quoted by the paper.
Last Saturday, riot police forcibly broke up the vigil, using tear gas and water cannon and detaining several participants.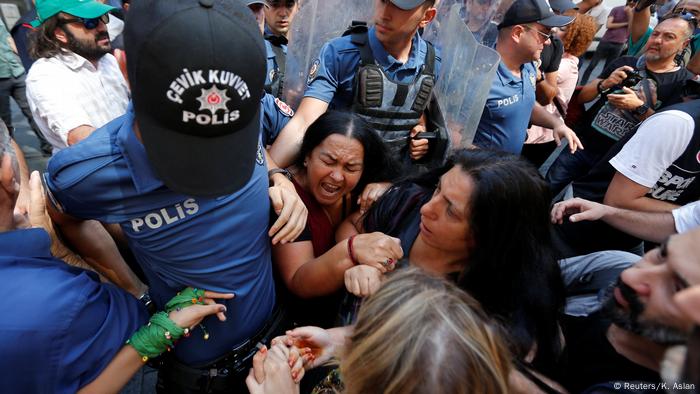 Last week's meeting would have been the 700th, but it was forcibly broken up by police
Allegations of militant links
Authorities said the protesters had defied a ban on the sit-in. Earlier this week, Interior Minister Suleyman Soylu accused the group of having links to the outlawed Kurdistan Workers' Party (PKK).
He said they were "trying to create victims through motherhood and mask terrorism through that victimization."
At a news conference in Istanbul, the group denied the charges, even pointing out that the current president, Recep Tayyip Erdogan, had met them and given them his support in 2011, when he was prime minister.
Read more: Remembering the Gezi Park protests and the dream of a different Turkey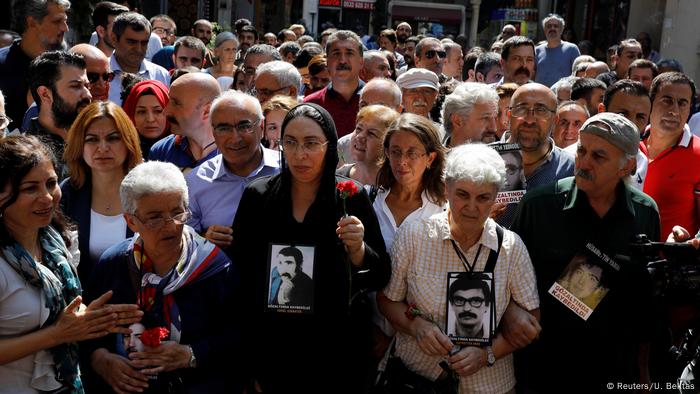 The group has been rallying for decades
Growing authoritarianism
Critics say that action taken against the group is another sign of Turkey's drift toward increased authoritarianism under Erdogan.
"There was a time when the police helped these people to do their vigil. To criminalize such an established protest now is an attempt to intimidate the rest of the public," said Ahmet Kik, a former journalist and politician in the pro-Kurdish Peoples' Democratic Party (HDP), who was at last Saturday's rally.
Following a failed coup in 2016, Ankara removed some 150,000 civil servants from their posts and arrested tens of thousands of people it sees as dissidents, including many journalists.
A two-year state of emergency that was imposed after the coup was lifted only in July of this year.
Since May 1995, with an interruption from 1999 to 2009 caused by repeated police action, the "Saturday Mothers" have met every Saturday at Galatasaray Square to draw attention to the fate of their relatives.
tj/rc (Reuters, dpa, AFP)Every evening at 1830 UTC, DW's editors send out a selection of the day's hard news and quality feature journalism. You can sign up to receive it directly here.