Emine Erdogan was addressing a Wednesday event on Ottoman sultans in Ankara when she lavished praise on the sultan's institutional concubines.
"The harem was a school for members of the Ottoman dynasty and an educational establishment for preparing women for life," she said, according to Turkish TV broadcasts and reports in domestic newspapers including Hurriyet.
The term "harem" has long been associated with polygamy and concubines; though during the Ottoman period it was an institution with very strict, detailed rules, which even the sultan adhered to. Each woman was educated in whichever discipline she showed the most promise - for example calligraphy, decorative arts, music or foreign languages.
The Turkish president and his wife regularly speak of their attachment to Islamic principles and the values of the defunct Ottoman Empire, from which the modern Turkish state was founded in 1923.
International Women's Day flashpoint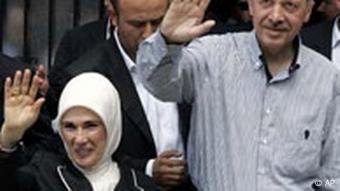 Recept Tayyip Erdogan has dominated Turkey as prime minister from 2003-2014 and now as president. He and wife Emine regularly espouse nostalgia for Ottoman institutions in their speeches.
Emine Erdogan's remarks followed her husband's controversial speech on Tuesday, International Women's Day, in which he repeated his call for women to propagate. In the past he's called for Turkish women to have at least three children and called birth control "treason."
"I know there will be some who will be annoyed, but for me a woman is above all a mother," the president told an audience of women in Ankara marking International Women's Day.
He further criticized capitalism for "enslaving" women in pursuit of profit.
"You cannot free women by destroying the notion of family," Erdogan said.
Women protest president's remarks
Hours after the president's speech, thousands of women gathered in central Istanbul on Tuesday evening to demand gender equality, which many said was being eroded by the Islamist-rooted Justice and Development Party (AKP) that's ruled since 2002.
"The policy of the AKP and the male hegemony that dominates our society is intended to keep women at the heart of the home and the family," a female protester named Gursun told the AFP news agency.
It's the not the first time President Erdogan has waded into the gender controversy. In the past he's proposed to limit abortions, likening them to massacres and opposed the the morning-after pill and Caesarian sections.
Domestic violence in Turkey - often involving wives killed by their husbands - has risen sharply in recent years and activists complain that too little is done to defend women from their family, boyfriends and spouses.
jar/msh (AFP)