For the time being, Gezi Park, located in central Istanbul's Taksim Square, is safe from destruction. A high price was paid two years ago to make sure it remained that way: eight people lost their lives, hundreds were injured, some of them seriously. At the time, images of the heavy clashes between protesters and police forces, whose violent response was out of proportion, went around the world. Protests spilled over into other major Turkish cities, where police forces - backed by supporters of the religious-conservative government party Party for Justice and Development (AKP) - also cracked down on demonstrators.
Then Prime Minister Recep Tayyip Erdogan, now Turkish president, underestimated the "spirit of Gezi," which refused allegiance to him. Erdogan's rampant building activity was reined in, at least in this particular case. Sunday marks the second anniversary of the start of the large-scale police attack on young environmental and peace activists residing in tents, and citizens of any age, in Gezi Park.
Time to write history - again?
Taksim Square and its access roads are flooded with police, both in uniform and plainclothes. They are again prepared to "write history." Those were the words of the then-governor of Istanbul province, Hüseyin Avni Mutlu, used to express his thanks to the police for putting down the protests.
One week ahead of parliamentary elections set for June 7, the "Taksim Solidarity" coalition does not intend to give the police the opportunity to start another crackdown, said Can Atalay, one of the many lawyers for the organization. Everything, he said, will be conducted in a peaceful manner, at least in other public squares and parks of the 20-million-metropolis located at the Bosporus: "Gezi made sure that the younger generation is becoming politically active again, and that people are taking the rights accorded to them."
Gezi: An eye-opener for many
Renouncing any kind of violence in the course of the second anniversary of the Gezi Park protests makes it plain that the "spirit of Gezi" is about to undergo a maturity test. Why, however, hasn't a political party sprung from the resistance movement, following the role model of Germany's Greens, who originated from an anti-nuclear power and anti-armament movement?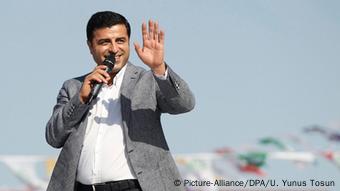 Selahattin Demirtas, co-chairman of the Turkish People's Democratic Party (HDP)
"The younger generation only knows Erdogan's AKP. Gezi has opened their eyes," said Ismail Saymaz, a journalist working for Turkish daily "Hürriyet" and a witness to the protests. A political field for further development was still missing, he continued. The Gezi movement has been increasingly guided by the People's Democratic Party (HDP), led by Kurdish politician Selahattin Demirtas.
Gezi helped people break their chains
If, indeed, the "spirit of Gezi" helps HDP to clear the 10 percent hurdle in the forthcoming parliamentary elections, Erdogan's AKP could lose its absolute majority after 13 years.
Ayhan Erdogan, one of the most prominent lawyers for the Gezi Park victims, has warned that the president could provoke new clashes.
"Otherwise, he would be unable to accuse the HDP of instigating chaos and supporting enemies of the state, and weaken it," Ayhan Erdogan said.
The lawyer represents the family of Ali Ismail Korkmaz, who, during protests in Eskisehir, was beaten up by street vendors, businessmen and police so badly that he died as a result of his injuries.
In the meantime, two policemen have been sentenced to 12 and 13 years in jail. Three of the vendors and businessmen were handed eight years each, another received a three-and-a-half-year sentence.
"There are lots of religiously fanatic, violent mobs supporting AKP everywhere, who can attack peaceful demonstrations and trigger clashes," the lawyer said, giving people credit for defending themselves against Erdogan in a non-violent way. "Thanks to Gezi, people have managed to break their chains."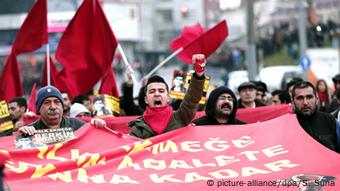 Protesters shout slogans against the Turkish government during a rally marking the death of a 15-year-old
Fans of Istanbul's oldest soccer club, Besiktas, want to avoid any violent clashes, according to fan club leader Cem Yakiskan. Legal proceedings were opened against him and 34 other "Carsi" fan club members over allegations of an attempted coup to topple the democratically elected government, after they had actively participated in the Gezi Park protests. Yakiskan and three of his companions face potential sentence of "extended life imprisonment," which amounts to a minimum of 49 years behind bars.
A reservoir of peaceful activists
"Erdogan overestimated my influence," said the 49-year-old, adding that he would "rather make Besiktas Turkish soccer champion than topple some government."
Carsi, established in 1982, supports Anatolian schools with donation campaigns, is committed to animal protection, provides help for victims of natural disasters and stands up to racism, Yakiskan said.
"We have become political," he added, "because we are revolting against injustice."
The indictment also mentions that Carsi activists had taken control of an armored water cannon and heavy-duty construction vehicles, "in order to attack the Prime Minister's office in Dolmabahce Palace." To Inan Kaya, a lawyer for the Carsi group, the indictment is a farce.
"It's 35 pages long and 21 pages are filled with lists of names and personal details about the 35 defendants," Kaya said. "The prosecutors demand a sentence of 49 years, but they don't manage to come up with 49 lines of concrete accusations."
The outcome of the "Gezi spirit" maturity test depends on whether it will make a stand against provocations. A single political leader is not on the cards, because Gezi does not define itself as a political ideology. Rather, it views itself as a reservoir of peaceful activists from all camps.
The "spirit of '68" had changed Europe and given its societies new political perspectives. The representatives of the "spirit of Gezi" share those aspirations.