Visiting Turkey for the first time since taking office in 2007, French President Nicolas Sarkozy on Friday reaffirmed his opposition to the country's bid for EU membership, instead urging Ankara to pursue an alternative partnership with the 27-nation bloc.
Sarkozy said the mainly Muslim nation, with its 75 million people and a growing economy, does not belong to Europe, and he has been pushing for a special partnership, a view shared by German Chancellor Angela Merkel.
"Between accession and [special] partnership, which Turkey says it does not accept, there is a path of equilibrium that we can find," Sarkozy told a news conference following talks with Turkish President Abdullah Gul and Prime Minister Recep Tayyip Erdogan.
"The best way of getting out of what risks to be a deadlock one day is to find a compromise. We should not dramatize the things. ... This must not prevent us from working together," he said.
Membership still a priority: Gul
In response, Gul insisted that membership remained a priority for his country and urged France not to block the already slow-moving accession talks.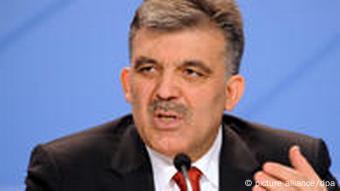 Gul expects EU countries to keep their promise
"We expect the entire EU to keep the promise they made ... and give us the opportunity to complete the process successfully," Gul said.
EU countries unanimously agreed in 2005 to start talks with Turkey with the goal of full membership. But out of the 35 policy chapters that EU candidates must negotiate, Ankara has opened talks on only 13 since the accession negotiations began.
Talks on 18 chapters have been frozen because of opposition from France and other members and a stalemate over the divided island of Cyprus. No significant progress has been made since last July.
Gul added that Ankara would respect the outcome of referendums that some EU countries, among them France, plan to hold on any eventual decision to admit Turkey, but stressed that "artificial obstructions must not hinder" the talks.
Whirlwind visit
Sarkozy was in Ankara for a brief six-hour visit in his role as chairman of the G20 group of leading economies. Talks focused on economic issues, nuclear energy and the ongoing tensions in the Middle East and North Africa.
Though Turkey had expressed disappointment at the short stay, Erdogan said the visit was a chance for the two countries to "build a future together." He said he expected Sarkozy to visit soon as president of France.
Erdogan is due to travel to Germany on Monday to meet with Chancellor Merkel in an effort to restart accession talks, before heading to Brussels to meet with European Commission President Jose Manuel Barroso.
Author: Martin Kuebler (AFP, Reuters)
Editor: Matt Zuvela