Tunisian President Beji Caid Essebsi swore in Prime Minister Youssef Chahed and his cabinet in the presidential palace in the capital Tunis on Saturday. Aged 40, Chahed will serve as the country's youngest prime minister since it gained independence from France in 1956.
The swearing-in came a day after the new cabinet had won a parliamentary vote of confidence and a month after the assembly had dismissed the previous government. Chahed's government won the vote by 167 votes to 22, with five abstentions.
His cabinet will be comprised of 26 ministers and 14 junior ministers from several political parties as well as independents, featuring several women and young politicians.
Chahed, a member of the ruling secularist Nidaa Tounes Party, is originally an agricultural sciences specialist and a university professor. He will serve as the seventh premier in less than six years since the 2011 uprising that toppled longtime dictator Zine El Abidine Ben Ali.
Many challenges ahead
Chahed told legislators that his government's top priorities would be winning the battle against terrorism, boosting economic growth and fighting against corruption. He also pledged to carry out far-reaching reforms to help the fledgling democracy, a message welcomed by Tunisia's international lenders.
Poverty and unemployment continue to be major problems in the country, and a string of terrorist attacks targeting tourists over the past year have exposed Tunisia's fragile security situation. The violence has affected Tunisia's tourism industry, a key source of income for the country.
However, Tunisia is still widely regarded as the sole democratic success story of the 2010-11 Arab Spring uprisings.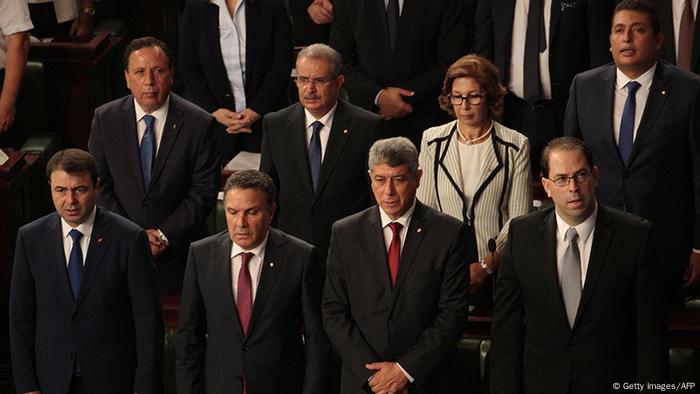 Chahed's cabinet will feature 26 ministers and 14 junior ministers with several women and young politicians
ss/jlw (dpa, AFP)