US President-elect Donald Trump was due on Tuesday to formally announce Rex Tillerson's nomination as US secretary of state. The nomination was leaked to US media including the New York Times on Monday, who cited two people close to Trump's transition team.
Trump already said in an interview with Fox News on Sunday that he was leaning toward selecting Tillerson, describing the Exon Mobil CEO as "a world-class player."
Other candidates for the job were informed of the decision via telephone late Monday, the New York Times reported.
Moderate Republican Mitt Romney, the preferred pick of many State Department insiders, said he had "very high hopes" that Trump's team would lead the US to "greater strength, prosperity and peace."
"It was an honor to have been considered for Secretary of State of our great country," he posted on Facebook, describing his talks with Trump as "both enjoyable and enlightening."
New top diplomat to face war in Syria
Tillerson has been criticized, however, due to his representing Exxon's interests in Russia during the 1990s. He also reportedly has close ties with Russian President Vladimir Putin.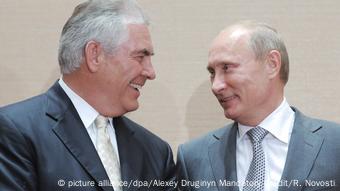 The 64-year-old Texan, who become CEO of Exxon in 2006, previously opposed sanctions on Russia and was awarded Russia's Order of Friendship by Putin three years ago.
Lawmakers from both major parties have warned that Tillerson would be grilled in the Senate at his confirmation hearing, also pointing to his complete lack of experience in formal foreign policy. If confirmed by the Senate, Tillerson will immediately face his first test with the ongoing conflict in Syria.
Given Trump's recent suggestions that he could take a more aggressive approach to dealing with Beijing, China could also prove to be a challenge for whoever fills the shoes of outgoing US Secretary of State John Kerry.
ksb,dj/kl(AP, AFP, dpa)