The problem-plagued Berlin Brandenburg Airport is likely to miss yet another deadline to open its doors, Berlin's mayor admitted Thursday.
"As it stands today, I cannot rule out that the opening will have to be postponed until 2018," said Mayor Michael Müller at a meeting of city officials.
After nearly 15 years in the planning process, construction on Berlin Brandenburg Airport began in 2006. It was originally scheduled to open in 2011 as a bigger, newer alternative to the German capital's smaller, out of date Tegel and Schönefeld airports.
The airport has become something of an outrageously expensive national joke in Germany and tarnished the country's reputation for efficiency in engineering.
Beset by issues running the gamut from corruption to poorly designed smoke vents to structural problems in the terminal roof, the airport has had four new opening deadlines since failing to make the initial October 2011 projection. In that time, an initial budget of 1.7 billion euros has ballooned to over 5 billion euros ($5.6 billion).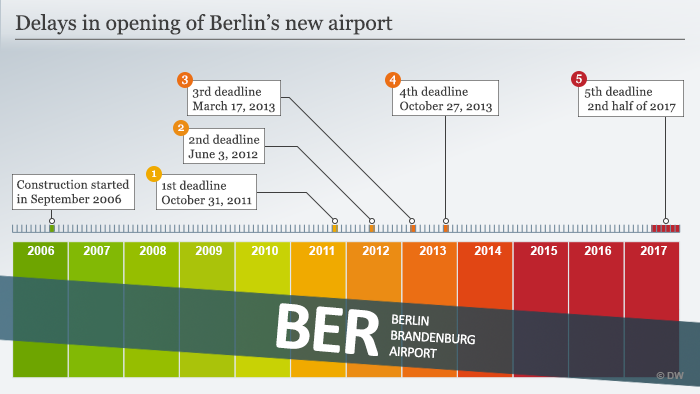 es/sms (AFP, dpa)