Freezing cold temperatures continued to wreak havoc across Europe on Sunday, claiming more lives and seriously impacting on travel in many areas.
Ukraine bore the brunt of the deaths as temperatures plunged as low as minus 33 degrees Celsius (minus 27 degrees Fahrenheit). Another nine fatalitites brought the country's total death toll to 131; most of the victims were homeless. Some 1,800 people were hospitalized and a further 75,000 sought warmth and food in over 3,000 shelters across Ukraine amid warnings the severe conditions would persist across the continent into next week.
Further fatalities were reported in France, Poland, Lithuania and Italy. Meanwhile states of emergency were declared in the Bosnian capital Sarajevo, and by authorities in 28 Serbian municipalities. In Montenegro, some roads and the main airport in the capital, Podgorica, were closed after a three-day snowstorm.
Since the freeze began nine days ago some 280 deaths have been reported in total, with some fatalities also noted in countries including Germany, Romania, the Czech Republic, Slovakia and Hungary. Even North Africa has been affected, where news agency AFP reported that 16 people died, mainly in weather-related road accidents in Algeria.
Grounded flights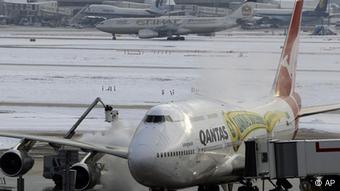 Further cancellations are expected on Monday
Heavy snowfall in England's capital prompted Europe's biggest airport, London Heathrow, to cancel half of Sunday's 1,300 scheduled flights.
"We deeply regret any disruption caused to passengers by the cold weather," said Normand Boivin, Heathrow's chief operating officer on the airport's website. "Reducing the flight schedule means we can fly as many people as possible and return the airport to normal as quickly as possible."
Many of Britain's other airports were also forced to shut runways overnight as 15 centimeters (six inches) of snow fell in parts of the country and temperatures dropped to almost minus 10 degrees Celsius. Passengers were advised to ask their airlines which flights are among those affected.
Heavy snow fall in other parts of Britain left motorway drivers stranded overnight and rail services disrupted.
ccp/msh (AFP, Reuters, dpa)