The German Constitutional Court on Wednesday continued its hearing into the legality of the far-right National Democratic Party (NPD) after dismissing claims that the presence of state informants within the party nullified the evidence against it.
A previous attempt to ban the party failed for that reason in 2003, but the German domestic intelligence agency and police say that all their informants have now been withdrawn from the NPD in a bid to strengthen the case against it.
The NPD's lawyer, Peter Richter, had attempted on Tuesday to prove that informants had been active in the party recently, but the court dismissed the claims as irrelevant.
The leading judge in the case, Andreas Vosskuhle, said on Wednesday that the current ban request would not be thrown out for this reason and that the hearing would go on unimpeded.
'Racist and violent'
The court is considering a request to ban the party that has been lodged by Germany's 16 federal states, as represented by the upper house of parliament, the Bundesrat.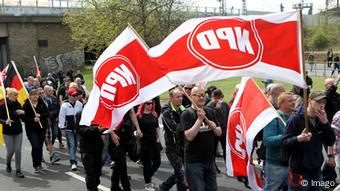 The NPD has a radical anti-immigration stance
The Bundesrat argues that the party advocates a racist and violent ideology that is redolent of that espoused by Adolf Hitler's Nazi party.
The current hearing concludes on Thursday. After that, the NPD will have six weeks to produce new arguments in its favor, which would then possibly also be heard by the court. If the party fails to come up with anything new, Thursday will be the final day for consideration of the ban request, though a verdict is not expected for several months.
On Wednesday, the constitutional court judges were to specify more precisely what criteria need to be fulfilled for a political party in Germany to be banned.
The NPD, which has some 5,000 members, is currently represented in only one German regional parliament, that of the eastern state of Mecklenburg-Vorpommern.
tj/kms (dpa, AFP)