The three soldiers were killed when PKK militants attacked an army battalion in Turkey's southeastern province of Sirnak on Thursday, an army statement said.
"As a result of an attack by the Separatist Terror Organization three of our brave personnel ... were killed," the statement said, using the army's customary title for the PKK, which it never mentions by name.
It said drones, helicopters and commando units had been sent to the area after the attack, which occurred while a military convoy was carrying out a security operation in the Akcay district.
The attack comes amid growing violence as Ankara wages what it calls a two-pronged "war on terror" against "Islamic State" ("IS") jihadists in Syria and PKK militants in northern Iraq.
The campaign is becoming increasingly focused on the PKK, amid international criticism that Ankara has turned its back on the peace process it had initiated with the separatist rebels.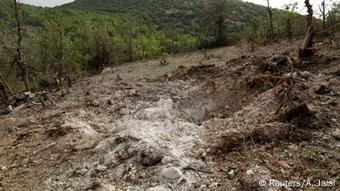 Turkish airstrikes have hit PKK targets in both Iraq and Turkey itself
Shattered truce
The PKK had largely observed a cease-fire since 2013, but in the last week, it has been blamed for a series of deadly attacks on Turkish security forces that have occurred almost daily.
In the latest violence blamed on the PKK, a Turkish policeman and a civilian were killed by gunmen who opened fire from a car on a tea house in the southeastern Diyarbakir region late on Wednesday.
The PKK has been conducting an armed insurgency for more than three decades in a bid to gain better rights and powers for Turkey's Kurds.
tj/jil (APF, dpa, Reuters)