Thousands of supporters of opposition leader Mikheil Saakashvili took to the streets of the Ukrainian capital Sunday, to demand his release from jail, while also calling for the impeachment of the Ukrainian president.
They rallied on Kyiv's main Independence Square, the Maidan, which was the focus of massive protests that drove Ukraine's former Russia-friendly president from power in February 2014. Then they marched toward the city center, to the prison where Saakashvili has been held, chanting "Down with the Gang!" and "Impeachment!"
Saakashvili was arrested Friday on allegations that he conspired with Ukrainian businessmen tied to Russia in an attempt to topple Ukrainian President Petro Poroshenko.
He had been arrested earlier in the week only to be freed by a mob of his supporters and has rejected the allegations. Saakashvili's lawyer said he was going on a hunger strike to protest his detention.
The Georgian led his small country in the Caucuses from 2004-2013.
President Poroshenko named Saakashvili the governor of Ukraine's Odessa region in 2015, but Saakashvili resigned a year later, becoming a strong critic of his former patron. He claimed that Poroshenko and other officials were corrupt, and were impeding his anti-corruption reforms.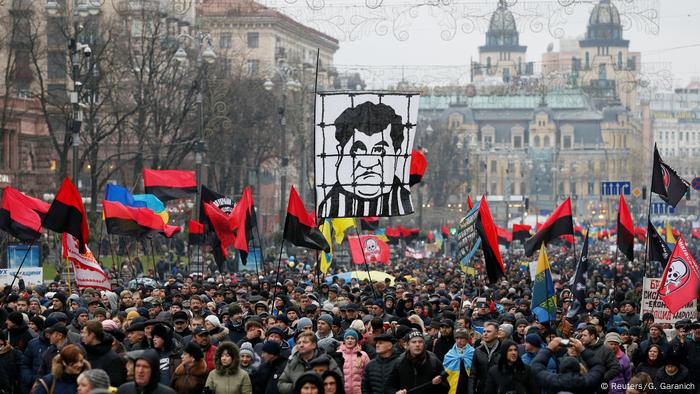 Ukrainians in Kyiv waving flags and banner's, including one with a sketch of President Poroshenko wearing a prison uniform
Both men have troubles
Saakashvili is also wanted in his native Georgia for alleged abuse of power, and faces possible deportation.
Georgia stripped Saakashvili, who had been a dual national, of his citizenship after he fled to Ukraine. This summer, Poroshenko rescinded his Ukrainian citizenship while Saakashvili was out of the country, leaving him stateless.
But Saakashvili forced his way back into the Ukraine in September, barging across the Polish-Ukrainian border with the help of a crowd of supporters.
Saakashvili's wife, Sandra Elisabeth Roelofs, said Ukrainian officials had "crossed a red line" by arresting her husband. In a reference to Poroshenko's business background — he ran a chocolate company before he was elected president — Roelofs said, "We need to show him that politics is not business and people are not merchandise."
Protesters smashed the windows of a candy store belonging to Poroshenko's company, Roshen.
Yegor Sobolev is an ally of Saakashvili's who was removed Thursday as chairman of a parliamentary anti-corruption committee by Poroshenko's faction and his supporters. Sobolev has called for president Poroshenko's dismissal.
"Impeachment is a way to move from kleptocracy to democracy," Sobolev said at Sunday's rally.
Protester Valery Shapovalov carried a big poster showing Poroshenko behind bars.
"Poroshenko is an oligarch, and it's silly to expect him to fight corruption," Shapovalov said. "Bees can't oppose honey."
bik/rc (AP, AFP, Reuters)