The protest movement against the multi-billion-euro railway project Stuttgart 21 is showing no signs of losing momentum.
On Friday, Sept. 3, police estimated a crowd of at least 30,000 people marched through the streets of Stuttgart to campaign against the ambitious plans for the railway station. Protest organisers claimed the number of people taking part was closer to 65,000.
The campaign went well into the evening, with those taking part lighting candles, torches and flares. Among the protesters was former long-distance runner Dieter Baumann.
The Stuttgart 21 project aims to completely remodel the city's train station, as well as transform the state of Baden-Wuerttemberg into a major hub of European rail transportation. Stuttgart would become part of one of the longest high-speed lines in Europe, linking Paris, Strasbourg, Munich, Vienna, Bratislava and Budapest.
A waste of money?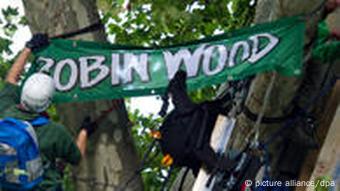 Environmentalists are concerned about the fallout from the construction site
Platforms are to be sunk underground, freeing up space in the city-center, and the current terminus-station should become a through-station, making journey times quicker.
Critics, however, say the plans are unnecessary and a waste of tax payers' money. The planned cost of the project is around 4.1 billion euros ($5.3 billion).
Several campaigners on Friday took to the trees of Stuttgart's Schlossgarten park, as some environmentalists voiced concern about the destruction the new development will bring.
"The trees of the Schlossgarten have become a symbol for everything Stuttgart 21 will destroy," one tree-squatter said.
A 56-year-old woman was arrested during the demonstration for attacking a police officer.
Political repercussions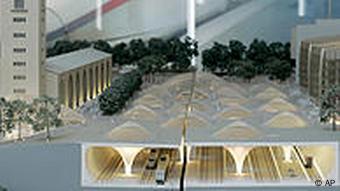 The Stuttgart 21 plans will completely remodel the station
A meeting is planned for September 10 between proponents and opponents of the Stuttgart 21 project. Deutsche Bahn chief Ruediger Grube is to meet with the state premier of Baden-Wuerttemberg Stefan Mappus, and the mayor of Stuttgart Wolfgang Schuster, who are both from the Christian Democrat party (CDU), and the mayor of nearby Ulm, Ivo Goenner of the Social Democrats (SPD).
With a state election in Baden-Wuerttemberg due in March 2011, the issue of the Stuttgart 21 project remains highly divisive. Senior conservatives fear the governing coalition of the CDU and Free Democrats could lose to the opposition Greens and SPD.
German Chancellor Angela Merkel's CDU has governed the state since 1953.
Transportation Minister Peter Ramsauer and Deutsche Bahn's CEO Ruediger Grube have already reconfirmed their support for the scheme.
Author: Catherine Bolsover (dpa/AP/AFP)
Editor: Toma Tasovac