A day ahead of an important gathering of heavyweights from Chancellor Angela Merkel's Christian Democratic Union (CDU), tens of thousands have marched across Germany on Saturday protesting government policies and what they say is social inequality.
Umbrella union group DGB, which helped organize the demonstrations, said nearly 100,000 people marched in Stuttgart, Dortmund, Nuremberg and Erfurt to voice their disapproval with the Merkel government.
Chief among the complaints was the offloading of the costs of the financial crisis on taxpayers.
"We don't want a republic in which powerful interest groups decide the guidelines of politics with their money, their power and their influence," Berthold Huber, head of IG Metall, Germany's largest trade union, told demonstrators in Stuttgart.
The union is demanding higher wages and the introduction of a minimum wage, arguing that ordinary Germans should benefit most from the country's economic upswing following the financial crisis.
Pressure mounts on coalition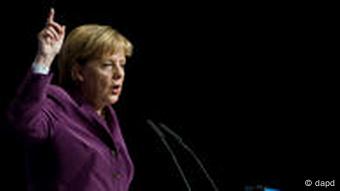 Merkel's coalition government is trailing opposition parties in polls
The protests were timed to coincide with the CDU's annual party congress, at which it's expected Merkel will be reelected to the leadership. The three-day gathering in Karlsruhe in Germany's south begins Sunday.
The congress will be held under the specter of sagging opinion poll figures for Merkel and the CDU. Just over a year into Merkel's second tenure as chancellor, many Germans are angry over a lack of progress on key campaign promises.
Her center-right coalition now trails the center-left grouping of Social Democrats (SPD) and Greens in opinion polls.
Merkel's government has also been dogged by infighting between the CDU and their government partners, the liberal Free Democrats (FDP) and the CDU's Bavarian sister party, the Christian Social Union (CSU).
Most recently, the public was angered when the Merkel government decided to extend the lifespan of the country's nuclear reactors. Nuclear energy remains deeply unpopular in Germany, witnessed most recently last week when tens of thousands protested the transfer of atomic waste from France to a storage facility in the north of Germany.
Merkel has also been criticized from the rightist faction within her own party, who believe she has not been conservative enough in her leadership of the CDU and the country.
Author: Darren Mara (dpa, AFP)
Editor: Sean Sinico