Imagine taking a windmill, turning it on its side and sinking it in the ocean. That, in effect, is what engineers have done in the Bristol Channel in England. The aim is to harness the energy the tide produces day in, day out. On Monday, the world's first prototype tidal energy turbine was launched.
The "Seaflow" installation was built into the seabed about one and a half kilometers (one mile) off the Devon coast. Above the surface, only a white and red-striped tower is visible. Beneath, 20 meters down, the single 11-meter long rotor turns up to 17 and a half times a minute at a maximum speed of 12 meters per second, drawing energy from the water's current.
The €6 million ($7 million) project's supporters -- which include the British and German governments and the European Union -- hope that tidal turbines may one day be a further source of energy. Unlike sun and wind energy, tidal energy is reliable, since it's not affected by the weather.
"As long as the earth turns and the moon circles it, this energy is a sure thing," Jochen Bard from ISET, a German solar energy institute involved in the project, told the dpa news agency.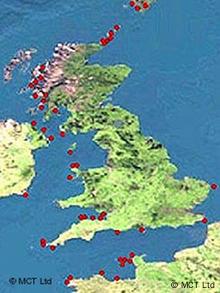 The red dots show locations where tidal energy turbines could be employed in Britain and northern France.
Seaflow can generate around 300 kilowatts, while rotors developed in the future should be able to produce a megawatt. The new facility is pegged to be linked to Britain's national grid in August, and a second rotor is to be added by the end of 2004. Marine Current Turbines (MCT), which operates Seaflow, estimates that 20 to 30 percent of British electricity needs could be provided by the new technology.
With Seaflow a kilowatt of electricity from the ocean is expected to cost €0.05 to €0.10. "Not unbeatably cheap, but not so expensive that developing the technology further would be futile," Bard stressed. Conventional power plants generate a kilowatt hour for around €0.03.
Environmentally-friendly
"I think we have invented one of the least offensive energy methods," MCT technical director Peter Fraenkel told Deutsche Welle. He explained that the effect on marine life would be minimal. "Any kind of higher marine mammals is as likely to run into it as a human begin is to walk into a brick wall." Not only do marine creatures mainly move faster than the rotor, water spirals through it in such a way that even jellyfish would be likely to go right through without being harmed.
Greenpeace climate and energy campaigner Robin Oakley told Deutsche Welle he didn't expect negative impacts from Seaflow either. When it comes to environmental impact, "there's a very big positive that has to be taken into account," Oakley said. "You have to weigh the effects carefully, he said. "That can't be allowed to slow down the development of green energy."