Director Michael Haneke's film about repression and violence in a northern German village just before the outbreak of World War I, walked away with 10 awards, including best film, best director and best screenplay at the gala awards ceremony in the German capital.
'The White Ribbon' was nominated for best foreign language film and best cinematography at the Academy Awards this year but failed to win an Oscar. However, it has bagged a Golden Globe, the Golden Palme in Cannes and the European Film Prize.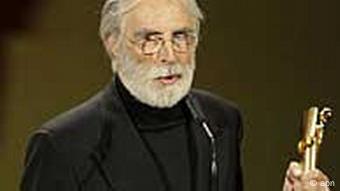 The Lola is the latest addition to Haneke's growing collection of awards
Accepting the Lolas, as the awards are known, Haneke said: "Thank you for the awards that have been showered on our film."
Among the deluge of awards for the film was the Lola for the Best Female Supporting Actor Award for 16-year-old schoolgirl Maria-Victoria Dragus. The film's lead actor Burghart Klaussner took home Best Actor prize.
Sibel Kekilli, an award-winning German actress of Turkish origin, won the Best Actress Lola for her role as a battered wife in Feo Aladeg's 'Die Fremde' or 'When We Leave.'
German director Hans-Christian Schmid's 'Storm', a political drama about the war crimes trial of a Yugoslavian commander, bagged three prizes, including the silver Lola and awards for editing and the Best Score.
The German Film Academy also honored Bernd Eichinger, producer of some of the most successful German films, including 'Der Untergang' (The Downfall) and 'Der Baader Meinhof Komplex' (The Bader Meinhof Complex), with an award for outstanding contribution to German cinema.
rb/dpa/epd
Editor: Sonia Phalnikar