"Sissi!" "Franzl!" For many millions of German speakers these two names are synonymous with actors Karlheinz Böhm and Romy Schneider who portrayed Austrian Emperor Franz Josef and his wife Elisabeth in the famous Sissi film trilogy. In the role of the attractive and likeable monarch, Böhm touched hearts not only in the immediate postwar years but right up to the present day. People of all ages still watch the romantic historical films whenever they are screened.
Böhm was born in 1928, the only child of renowned Austrian conductor Karl Böhm and singer Thea Linhard. He grew up in the German cities of Hamburg and Dresden. With the help of forged medical certificates attesting to a lung disease, he managed to escape from wartime Germany and attend a boarding school in Switzerland. After the end of the Second World War he moved with his parents to Graz in Austria.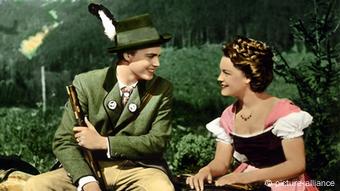 For many, Karlheinz Böhm will always be the "Franzl" of the Sissi films
Although Böhm originally wanted to become a musician and learned to play the piano at an early age, he found his interest turning more to theater and film. He worked as an assistant director and attended an acting school in Vienna. This led to numerous roles in light entertainment productions.
However, the success of the Sissi trilogy in the mid-1950s turned into a curse for Böhm as he was subsequently only offered similar roles to that of Franz Joseph. "I don't know how many princes, counts, kings and emperors I could have played - there were no longer any good offers," he said in 1991. This prompted him to move abroad and he acted in various films in England, France and the US. Böhm extended his repertoire and played characters of very different kinds but that was not what his fans back home wanted to see.
The psychothriller "Peeping Tom" (1959) in which Böhm played a psychopathic murderer was torn apart by the critics. Instead of laying the foundation stone of an international career, the film gathered dust in the archives. Today it is considered a masterpiece. Disappointed and disillusioned, Böhm returned to Europe in 1964 and started again "right from the bottom", as he said, this time concentrating more on theater.
In the 1970s, cult director Rainer Werner Fassbinder brought the former star of German-speaking cinema back to the screen.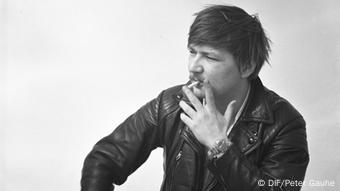 Working with Rainer Werner Fassbinder changed Böhm's outlook on life
In 1974 Böhm played in "Effi Briest," based on the novel by Theodor Fontane, and later in "Martha" a psychodrama about a marriage, with nightmarish elements. Of his work with Fassbinder, Böhm said, "I considered him to be the most interesting political critic of the time. The challenge of working with him was far more important to me than my own artistic development."
It began with a bet
The contact with Fassbinder led Böhm to take more interest in global problems. In 1976 he travelled to Africa to recuperate from breathing problems. When he saw the poverty there with his own eyes, he decided to act. Five years later he appeared on a primetime German TV gameshow called "Wetten dass...? (Wanna Bet?) Böhm bet that not even one in three viewers would donate a single German mark for people in Africa. He won that bet - but more than a million deutschmarks were donated and later the same year Böhm founded the aid organization "Menschen für Menschen" (Humans for Humans) which has now collected a total of 230 million euros ($313 million) and has a staff of more than 700 people in Africa. The foundation, which focuses its work on Ethiopia, came under criticism in early 2013 after two major donors resigned, saying it lacked transparency. Shortly before, it was revealed that Böhm was suffering from Alzheimer's. The criticism was later largely refuted by an independent body which did, however, make some recommendations for improvements to the way the foundation was run.
Some 360 schools were set up with help from the foundation, hundreds of wells were dug and arable land created. A credit system enabled women to become independent. Böhm also tackled the sensitive topic of female genital mutilation (FGM). A statue to Karlheinz Böhm was erected in Addis Ababa in 2011
Böhm was married four times and had seven children. In 2002 the Austrian state honored him for his decades-long commitment to Ethiopia. More awards followed in Germany, But the one which probably meant most to him was when he was made an honorary citizen of Ethiopia in 2003. He is known there as "Abo" Karl - a statue of him stands in "Karl Square" in Addis Ababa and several mountains also bear his name.
A statement from Böhm's foundation issued on Friday (30.05.2014) said "The world has lost a courageous visionary and tireless fighter for justice." On his 80th birthday, Böhm was asked if he regretted giving up his acting career. His reply: "If I compare saving a human life and all the experiences I had as an actor - what is there to miss?"