Antoni Macierewicz, who has been Poland's defense minister since 2015, is so influential in nationalist and right-wing circles that he enjoys considerable autonomy within government and the Law and Justice (PiS) party led by former Prime Minister Jaroslaw Kaczynski.
Macierewicz, who served as interior minister in the early 1990s, is considered something of an expert when it comes to tracking conspiracies (or, his critics say, inventing conspiracy theories) and the murky networks of former agents of the secret services of Poland's pre-1990 Communist government or Russia. In his role, Macierewicz continues to fuel speculation that — contradictory to the opinions of mainstream experts — the Kremlin had a role in the 2010 plane crash in Russia that killed Lech Kaczynski, the PiS leader's twin brother and the president of Poland at time, and many others.

The hostility that Macierewicz has exhibited toward the post-Communist agencies and Russia makes the publication of a new book even more surprising. "Antoni Macierewicz i jego tajemnice" (Antoni Macierewicz and His Secrets) builds on the journalist Tomasz Piatek's coverage of the prime minister for the daily Gazeta Wyborcza. The reporter describes Macierewicz's suspicious acquaintances, collaborators and relationships over the years. Piatek analyzes the defense minister's longtime cooperation with a former Communist security agent (despite full knowledge of the apparatchik's past), for one example, and Macierewicz's relationships with supporters of Russian President Vladimir Putin in Poland and abroad.

'Working hypotheses'
Following the money as relates to Macierewicz's career has led Piatek to the mighty mobster Semyon Mogilevich, who is apparently supported (or at least tolerated) by Russia's secret services and even by the Kremlin. As described by Piatek, Macierewicz's relationship with Mogilevich is an indirect one, linked by the business affairs of the former US Senator Alfonse D'Amato, an apparent associate of the defense secretary's. Years ago, the politicians helped co-found the US's Friends of Poland organization.
In Poland, the opposition accuses Macierewicz of weakening the army and eroding confidence among NATO's European allies. Critics believe that Macierewicz's perceived negligence has deteriorated Poland's posture in the face of Russia. "Many people ask me directly: Is Antoni Macierewicz a Russian spy?" Piatek writes late in the book. "I cannot answer that question, yet." He can put forward some "working hypotheses," such as that Macierewicz may have been tricked into cooperation with Russia a long time ago. To no surprise Piatek's book has been fiercely attacked by some pro-government media.

The respected investigative journalist Pawel Reszka, who now works for the Polish edition of Newsweek, has criticized Piatek for jumping to conclusions. But even the book's critics — at least those who aren't representing state or pro-government media — acknowledge that Piatek has raised questions that require prompt and broad clarification from Macierewicz.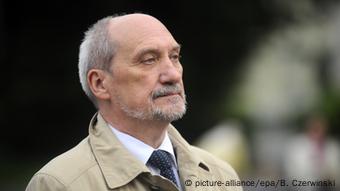 "Is Antoni Macierewicz a Russian spy?" Piatek writes. "I cannot answer that ... yet."
Suppressing the press?
After the book's publication in late June, the defense minister decided not to file a civil suit against Piatek, which would have required him to prove the journalist's findings incorrect. Instead, he has called for Piatek to be criminally prosecuted.

Macierewicz argued that Piatek had violated the Criminal Code by "using violence or unlawful threat which affects a government authority performing its duty" and "insulting a public official in the course and in connection with the performance of their duties." The complaint was forwarded to the military department of Regional Prosecutor's Office in Warsaw. If charged and found guilty, Piatek could face up to three years in prison.

In August, Amnesty International called on Poland's authorities to drop immediately the case against Tomasz Piatek and not pursue any criminal charges that relate solely to the book or his work as an investigative journalist. As Piatek suspects that he has been under surveillance since at least the beginning of July, Amnesty International also urged Poland to ensure that journalists could carry out their legitimate activities free from harassment and without fear of reprisal.