Six years after a plane crash claimed the lives of nearly 100 of Poland's top political leaders, including its president, conspiracy theories surrounding the crash have only mushroomed.
And the chief architect of the theories about a conspiracy behind the death of then president Lech Kaczynski is his twin brother Jaroslaw, who now says the plane crash in the western Russian town of Smolensk was a conspiracy between Poland's western-oriented government at the time and Russia.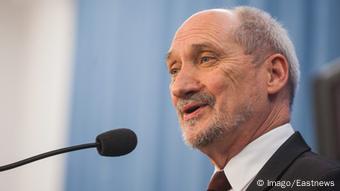 Defense Minister Antoni Macierewicz
Jaroslaw Kaczynski and his supporters say they have evidence that "almost certainly" proves that the president's plane fell to pieces in mid-air from an attack as it was preparing to land at Smolensk airport, but so far no such evidence has been made public.
Defense Minister Antoni Macierewicz, a staunch conspiracy theorist, is among a growing number of right-wing political operatives calling for Donald Tusk to stand trial despite a total lack of evidence that the then prime minister, and current president of the European Council, had anything whatsoever to do with the crash.
The minister said on public television Saturday that it was "evident that Tusk should suffer all the consequences of his actions."
Crash due to heavy fog
Poland and Russia have both conducted independent investigations into the crash and both concluded the cause of the crash was a series of pilot errors caused by an attempt to land the plane in very heavy fog.
On Sunday, Jaroslaw Kaczynski, Prime Minister Beata Szydlo, other government officials, victims' families and hundreds of Warsaw residents participated in wreath laying ceremonies at the victims' graves and memorials.
The Polish dignitaries were flying to Russia in 2010 to honor Polish officers killed in the forest of Katyn and elsewhere by the Soviet secret police in 1940. For decades the Kremlin refused to acknowledge responsibility for those crimes, and the subject was also taboo for Poland's communist era governments that were backed by Moscow.
Now
the right-wing Law and Justice Party (PiS) is setting up a new investigative subcommittee to re-examine the crash.
The committee head, Waclaw Berczynski, reiterated his theory that the Tupolev 154 exploded mid-air, without offering a stitch of evidence to substantiate his claim.
"We can say with great probability, practically with near certainty, that the aircraft broke apart mid-air," he told the Catholic weekly Gosc Niedzielny.
But many, such as Rafal Grupinski, a lawmaker with the liberal opposition party Civic Platform (PO), which was in power at the time of the crash, say some people simply haven't come to terms with reality.
"The PiS," he said, "won't stop engaging in political necrophilia on the victims' graves."
bik/bw (AP, AFP)