A subtle but alarming new trend is marrying the most extreme of German political culture with the latest in hipster couture, giving rise to the "Nipster" - or neo-Nazi hipster. The recognizable, easily maligned skinheads and leather coats that so easily defined the far right before are out. Trendy sneakers, canvas bags, even the Guy Fawkes masks favored by the hacker collective Anonymous show the new face of the German far-right movement: a cooler, less-aggressive appeal to youths that largely relies on appropriating symbols of the left.
"This all begins in the mid-2000s, with neo-Nazis copying left-wing movements on how to act in public and dress," Felix Huesmann, a journalist who specializes in German far-right politics and youth movements, told DW.
"They saw that it worked with left-wing subculture and thought it would make them more successful," Huesmann said.
And, indeed, even some of Germany's most prominent far-right factions seem to be changing their look. With membership declining, the National Democratic Party (NPD) must attract discontented youth to compete with the upstart Alternative for Germany, which is sweeping up their discontented parents.
'You're not welcome'
National Democratic Party head Frank Franz (pictured) is a prime Nipster example: This good-looking 37-year-old father describes himself as a "sartorial enthusiast" on Instagram, and the photos he posts show a man with a penchant for well-tailored trousers, pocket squares and trips to the lake.
When he's not reminding immigrants to "stay out - you're not welcome!" on Facebook, the professional graphic designer is trying on bespoke suits.
NPD spokesman Klaus Beier told DW that Franz's look "has been his style for many, many years" and was not a politically motivated PR move. Beier said the NPD wanted its younger members "to preserve their own style."
"Our goals have not changed," Beier said. The NPD is merely trying to "conduct politics in 2015 ... so of course we are trying to transport our politics to various social portals."
"We have been elected in part by 18- to 24-year-olds," he said. "We want to speak their language."
Another very public Nipster is the Bavarian NPD official Patrick Schröder, who runs a popular weekly nationalist YouTube show called FSN.tv and has been described as the "nice neo-Nazi" by the German press for his reportedly laid-back demeanor and more open attitude toward journalists than many in the far-right scene have.
"This is a political fight," Schröder told a Vocativ news team last year. "We're not trying to be a subculture. As a movement, we should work in that way - that more people become the so-called Nipsters so they can go better into the mainstream."
The journalist Huesmann said many neo-Nazis were just opting for a hipper, younger face and it wasn't necessarily an aesthetic cultivated by the PR staff at NPD headquarters. "In many cases it's just their personal choice," he said. Young far-right extremists don't want to wear a uniform: They want to combine their unique identity with neo-Nazi ideology.
Some concerns are pragmatic, as well. As Huesmann put it: "If you dress up like the neo-Nazis of the 1990s, what are the possibilities of getting a job?"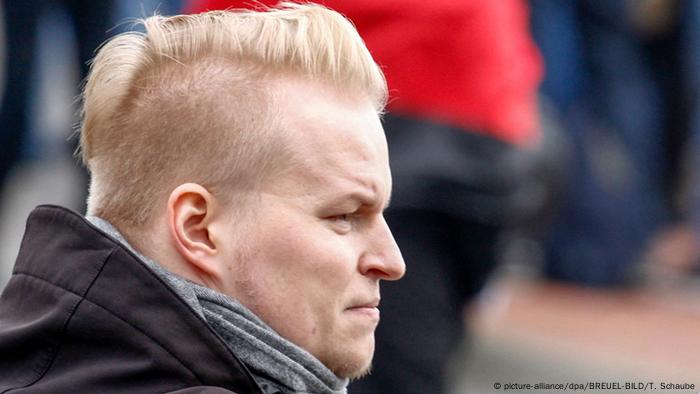 Schröder recently won a legal battle over FSN.tv's lightning bolt logo - which prosecutors had argued too closely resembled the SS lightning-bolt symbol
Vegan cooking, Tumblr and the Harlem Shake
The Nipster phenomenon is not exclusive to the NPD: Superbly designed neo-Nazi Tumblr blogs are easy to find, for example, and then there's the right-wing vegan cooking show "Balaclava Küche," (Balaclava Kitchen), in which the chefs wear, of course, balaclavas - and sometimes T-shirts with Adolf Hitler's face on them. The videos warn viewers not buy any "Nestle, Coca-Cola, Kraft, Unilever or Israeli jizz" for their recipes.
Another unlikely example is a version of the popular Harlem Shake meme made by the Jungen Nationaldemokraten (Young National Democrats), which has more than 100,000 views on YouTube.
Though Nipsterism has changed the way many neo-Nazis look, Huesmann does not believe that Germany's far right has changed its core values. No matter what neo-Nazis look like, he said, "they all share the same ideology - and that's an ideology from 1933, not 2015."
For all the effort they put toward presentation, the agenda behind Schröder's YouTube channel and Franz's Facebook page is still the same as ever: anti-immigrant and nationalistic.
The NPD received a dose of bad news on Monday, when it was announced that Germamy's Federal Constitutional Court would hear a petition to ban the party for employing forbidden Nazi symbols and rhetoric. Beier, the spokesman, said the NPD was "of course taking [the case] very seriously," but "a party that hasn't done anything forbidden cannot be banned."
Whatever the court decides for the NPD, it will likely withhold judgment on the Nipsters' new look.