When snow falls, a 50-meter (164-foot) stretch of a cycle path in Wageningen stays free of ice - because this is where a heated cycle lane is being tested. The surface of the path maintains a temperature of five degrees Celsius (41°F) - enough to not let ice form, which in turn makes cycling in the winter a lot more attractive.
At first glance, the path looks like any other cycle lane, but according to the Wageningen council, it is heated by underground pipes, making it energy efficient and even climate neutral. Heat generated in the summer is collected and stored in these pipes, as far down as 150 meters, in order to heat the cycle lane in the winter.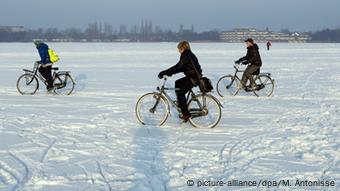 In the Netherlands, people cycle in all weather conditions
Depending on the location, engineers say exhaust heat from nearby factories or wastewater pipes could also be used to heat the cycle paths. Sensors measure how cold and damp it is and automatically switch the heating system on and off. "The starting point was that when there is snow and ice, the roads have priority over cycle paths when it comes to gritting or clearing," says Job van Roekle, managing director of the Easypath company, which developed the heated cycle lane concept.
Project well received
The heating elements mean the cycle path can be used all year, but beyond that, this idea could benefit places like homes for the elderly wanting to keep their entrances clear.
Another added advantage is the reduced use of salt, which is harmful for the environment.
There are no plans to heat miles of cycle lanes, but rather specific points for instance on narrow paths, on inclines or in underpasses, where snow ploughs don't have access, explains van Roekel.
The "thermopath" is approximately twice as expensive as a normal cycle lane to build. Nevertheless the pilot project in Wageningen has been well received, van Roekel says. The test has been running since 2014. Seven provinces in the Netherlands have expressed an interest in the design.
The Netherlands, a country of cycling enthusiasts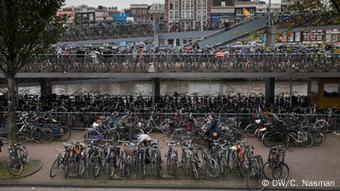 Bicycles rule in the Netherlands
In no other country with a comparable level of prosperity are bikes as popular as a mode of transport as here. A quarter of all travel is done by bike in the Netherlands. In Germany, cycling accounts for a mere 10 percent.
Dutch train stations have garages for bicycles and cyclists have their own traffic lights at crossroads and reserved lanes to turn off. People in the Netherlands use their bike 300 times a year on average.
High tech creates perfect cycling conditions
The Netherlands is currently working on creating an ideal cycling infrastructure. In the city of Utrecht, scientists have tested a green wave for cyclists. On the ground alongside the cycle path, there are LED lights. If a cyclist matches the speed of those lights, they will never have to stop and wait at a red traffic light.
In Groningen, traffic lights that give cyclists a green light more quickly and more often when it rains are being tested. This aims to encourage people to still use their bike rather than their car in bad weather.
Cycle paths as a source of energy
Another innovation is the solar cycle path, which has solar panels embedded in it. It makes sense when you consider that there are some 35,000 kilometers (27,747 miles) of cycle paths in the Netherlands.
"The surface of cycle lanes and roads is far greater than house roofs," says Sten de Wit from the SolarRoad consortium. Solar paths offer an opportunity to create environmentally friendly energy by using existing structures that even need to be expanded.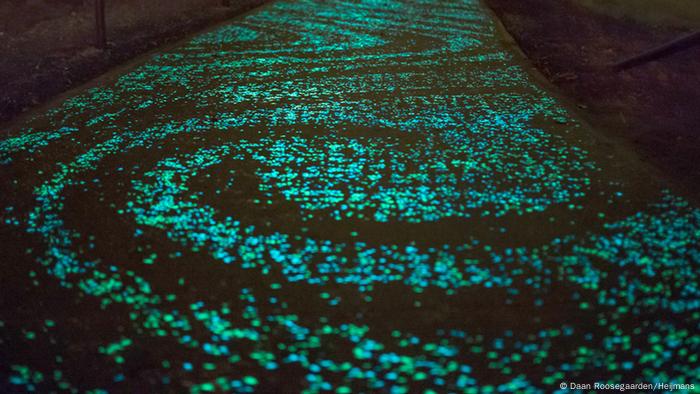 Solar cycle lane in Eindhoven
The first 70-meter long solar cycle lane can be found in Krommenie, just north of Amsterdam. The surface has rows of crystalline silicon solar cells, encased within concrete and covered with a translucent layer of tempered glass. "Cyclists don't notice any change in surface," de Wit says. The surface has a special cover to make sure that cyclists do not slip on it.
The solar cycle lane was created a year ago and has in the meantime produced more energy than expected: some 9,800 kilowatt hours, enough to provide three homes with power. Therefore there are plans to extend the path by a further 20 meters this year, as well as improve the non-slip surface cover.
The path has also generated global interest, with the US state of California already agreeing to a cooperation on this new kind of cycle lane. There is also a solar cycle path in Eindhoven. This one lights up at night to make cycling both safer and more attractive.