Speaking at a recent conference of football analysts in Frankfurt, Oliver Bierhoff described the German football association's (DFB) new academy as its "project of the century" and nothing short of a "Silicon Valley" of football.
The DFB has budgeted €110 million ($129 million) for the construction of the Frankfurt-based academy, which is to begin next year.
The DFB's hope is that the new academy will be able to deal with the type of footballing issues many clubs don't have the time or resources to look into.
A digital age
Big data is part of the modern game and many see it as the key to success in the football of the future. Among those who hold this view is Germany head coach Joachim Löw (pictured above, center).
"It is part of my day-to-day work as a coach," Joachim Löw told the conference. But it's not just about coaches; modern players also expect to be presented with digital analysis of their training sessions.
"Today's players are of a generation that needs visual stimulation," Löw explained. "They aren't satisfied simply to follow instructions, they like to review plays from various camera angles. They crave information and criticism, but also solutions."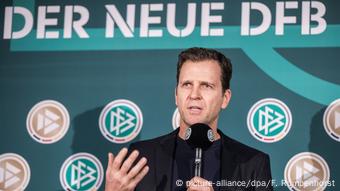 Germany GM Oliver Bierhoff
As much data as possible
The fact that Löw and Bierhoff hosted around 130 football analysts from all over the world, including from clubs such as Barcelona and Manchester City, was the DFB's way of sending a message to the world; that it aims to be the leader in the field of digital match analysis, and the new academy is meant to be at the heart of this effort.
Using big data to win games is all about analyzing any given player's movement, the quality of passes and even his or her will to win. Statistics on ball possession or how far a player runs in a game are passé. As was repeatedly pointed out by various analysts at the conference, Germany blew out Brazil 7-1 in their 2014 World Cup semifinal, despite the fact that Löw's men had less of the ball and fewer attempts on goal than their opponents.
Everything can be measurable and such statistics are a key aspect of a coach's work these days. Coaches have access to a 360-degree view of each of their players. Video, data and medical information is all recorded digitally, using GPS, antennas, special vests and chips embedded in jerseys.
"Every coach is different," coach Löw said, adding with a smirk that that some still regard the distance that a player runs as crucial. That's because he knows that scientific analysis has long been about much more than the percentage of tackles that a player wins or how many kilometers a player covers.
Lehmann's cheat sheet goes digital
German fans in particular will remember the fact that then-national team goalkeeper Jens Lehmann used a cheat sheet to prepare for a penalty shootout during Germany's quarterfinal shootout against Argentina in the 2006 World Cup. Lehmann had noted which way each Argentine player tended to shoot the ball on a penalty kick.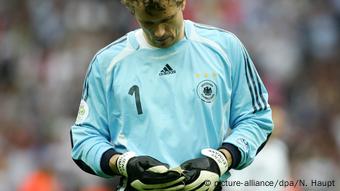 Jens Lehmann's cheat sheet wound up in a museum
The software firm SAP, which provides digital services to the DFB, presented its newest gadget at the Frankfurt conference. SAP has revolutionized Lehmann's cheat sheet. It tracks all of the penalty kicks taken by a player throughout his career.
"Take Spain, for example Germany's next opponents – in March," said Bernd Huwe, SAP's business development director sports and entertainment. He tipped on the word Spain on his tablet and up popped all of the information that Jogi Löw would need to prepare his team to beat La Roja in a penalty shoot-out. The app provides information from the point of view of either the goalkeeper or the shooter. It also provides information about how any given player tends to react in different situations, summing up the information in the form of a video.
Tablet on the touchline
So will the day come when we see Joachim Löw holding a tablet on the touchline before a penalty shootout? Huwe believes that it will. While it is true that under FIFA rules, electronic devices connected to the internet are banned, the SAP app would allow the Germany coach to access stored information on his tablet offline. And while Löw has been known to warn his coaching staff against allowing themselves to be flooded with information, he probably won't want to be without that app when he and Germany travel to Russia next summer.