When you sign onto Ello for the first time, you feel alone. The design is minimalistic, and you cannot import your friends from Facebook or Twitter. You have to start from scratch. You search for new contacts, and your internal compass needs to adjust to navigate its way around.
Still, many people are hopping on board. Thousands of them are signing up every hour, says Ello founder Paul Budnitz. But registering requires an invite from an existing user. Now, invitations to join are so sought after that people are selling them on Ebay for up to $100 (78 euros).
Has the Facebook exodus begun?
It could be curiosity, or dissatisfaction with existing networks like Facebook and Twitter and how they handle privacy and user data. Ello has declared itself an advert-free zone, which doesn't sell user data to third parties. It also promises to let users only reveal as much about themselves as they want to.
This is quite enticing for many who don't want to adhere to Facebook's real-name policy. The latter's rule means that several drag queens who use performance names on Facebook could be blocked. Several American lesbian, gay, bisexual and transsexual (LGBT) activists have threatened to leave Facebook. The "great gay Facebook exodus" - that's what the "Daily Dot" is calling it.
Meanwhile, Ello has been reaching out to them.
"Ello welcomes the LGBTQ community and we're very excited to see so many people moving over!" the company's founder Alex Budnitz told "The Daily Dot."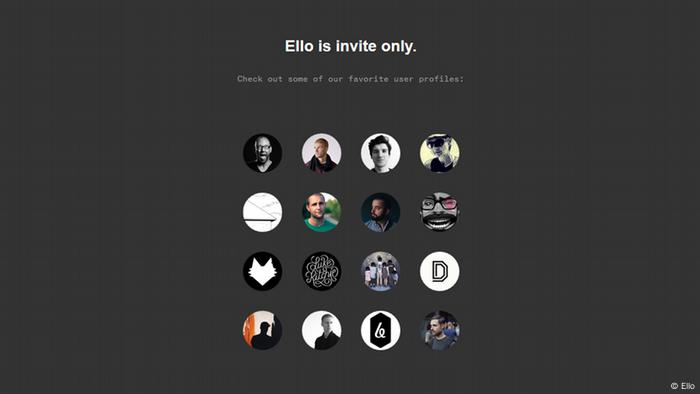 Lacks the usual features
Despite all the media hype, which is in part due to the LGBT community's outcry, Ello has little to offer when it comes to features. It isn't that different from other messaging services, which you can use to write posts or share images and links. You cannot send private messages, preview links or search for specific topics on Ello. And it isn't even available as an app.
But there's hope. The shortcomings appear on a long list of features that are still in the making.
"Right now the biggest priority is to roll out new features," Ello spokesperson Rachel Fukaya tells DW in an email. "We're listening to the Ello users and re-aligning features based on user feedback."
All the same, Fukaya admits Ello still has to improve many aspects of the platform. "Things are still a little buggy, but makes it an exciting adventure for everyone," she says.
The makers of Ello also want to focus on building a flourishing community, the spokesperson adds.
To do this, the network has chosen a different path to mainstream social networks. For instance, the founders have invested in protecting their members' privacy. Also, content blocked by other social networks is allowed on Ello.
"We're totally OK with nudity - as long as it's stuff that doesn't hurt people, doesn't invite violence against others, doesn't involve minors, animals, etc. And as long as you mark your site as NSFW [Not Safe for Work]", Budnitz told the website "Cool Hunting".
Ello's stark and minimalistic appearance also differentiates it from other social networks. White, grey and black are the dominant colors. There is a lot of empty screen space and the icons are small and unpretentious. Some might call it sleek and elegant. To others, it is an unoriginal, atrocious design disaster.
Venture capital raises questions
But the critique of Ello goes beyond its features. Venture capital firm Fresh Tracks Capital invested $435,000 (342,231 euros), according to online activist Aral Balkan. This is a sign that Ello plans to sell the network and its user data in the long-run, he says.
"When you take venture capital, it is not a matter of if you're going to sell your users, you already have. It's called an exit plan," he writes on his blog.
Ello's spokesperson Fukaya describes a different business model.
"The main features of Ello will always be free," she explains. "For a very small amount of money we are going to sell special features that certain users may want to add to their account. We have thousands of people writing in requesting features they would be willing to pay for. Buying a feature now and then for a few dollars is a great way to support an ad-free network."
Despite criticism, several thousands are heading to Ello. And they aren't the only ones - hackers are doing the same. On Sunday (28.9.2014), Ello shut down for a few hours after an attack by hackers.