Although Prime Minister Prayuth Chan-ocha has promised that he would bring the country back to democracy, critics worry that a democratic future for Thailand might be out of reach.
With elections promised for late 2017, the junta keeps a firm grip on the country and has also opened the door for a non-elected prime minister.
While many Thai intellectuals and former politicians are quiet about the political development, senior Democrat Party politician Kasit Piromya vehemently criticizes the junta and the new constitution.
"The people are being brainwashed. They are made to believe that it's better to have a 'guided democracy' in Thailand for the next five years," Kasit, the former foreign minister, told DW. "But the military is consolidating its power. It wants to control Thai politics for the next 20 years. Most politicians have no choice other than to obey their commands," he added.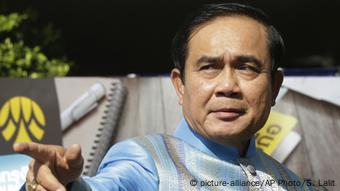 'So far, Prayuth has done a good job,' says a supporter
'Rotten' political class
Others think differently. Many Thais felt relieved when the military dislodged Former PM Yingluck Shinawatra's elected government. They say they were tired of street protests, corruption scandals and the clashes between the so-called Red Shirts - followers of Former PM Thaksin Shinawatra - and the Yellow Shirts - supporters of the Democrat Party.
Warat Intasara, a lecturer at Bangkok's Suan Dusit University, supports Prayuth. He believes that Thailand's political class is "rotten."
"The problems that the incumbent government is facing are a result of the policies of our previous governments," Warat told DW. "But things are getting better now. There is peace in the country and people feel safe," he added.
The crisis persists
It's been two and a half years since the military coup and the junta has no intention of leaving. The new constitution gives the army the power to appoint a senate that can oversee parliament. It can also choose a non-elected prime minister after the 2017 elections.
Prayuth says he has no intention to continue as prime minister beyond 2017, and that he will only continue if it's necessary. But many Thais expect that he will stay in power for a long time.
A poll conducted by the National Institute for Development Administration shows 60.8 percent of the respondents believe Prayuth is suitable for the PM job, the Bangkok Post reported earlier this month.
Warat believes it will be a win-win situation for everyone when Prayuth finally leads a national government. "We need an 'outsider' to rule us. Prayuth still has to put everything in order before an elected government takes over. So far, he has done a good job."
A small group of politicians, however, is opposing the possibility of Prayuth becoming a non-elected prime minister. Red Shirts leader Thida Thavornseth believes the general should respect the democratic process, organize his own political party and contest elections if he wants to remain in power.
"Thailand's political crisis is not visible on the streets anymore but it has not been resolved. The military can't end it," Democrat Party official Kasit Piromya underlined.